Take Action!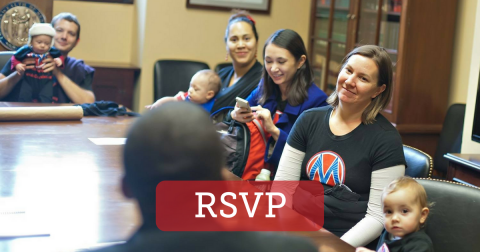 Ask Senator McCaskill to support Paid Sick Days & Affordable Childcare!
Between lack of earned sick days and non-existent paid family and medical leave policies, working parents are really feeling squeezed right now.
But together, we can change this! Click here to join us for a meeting with Senator McCaskill's staff to thank them for the Senator's leadership and to urge her to do even more by co-sponsoring the Family and Medical Leave Act as well as the Healthy Families Act.
Date & Time: Tuesday, October 10th at 2 pm
Location: Senator McCaskill's Columbia Office – 28 N 8th Street, Suite 500, Columbia, MO 65201
*** Your kids and other family members are more than welcome to attend!
From October 10th-13th Senator McCaskill will be back in Missouri for the congressional recess. During this break from DC, it is her job to engage with YOU! So we've set up a high-impact face-to-face meeting to make sure Senator McCaskill and her staff know we expect them to continue to step up, co-sponsor and champion policies that help working families and increase access to earned paid sick days and paid family and medical leave.
Can you make it? We'd love to have you join MomsRising to share your experience with our lawmakers!
Never met with your lawmaker before? No worries! No experience, other than being willing to share your personal experience, is necessary! We've done all the legwork to set up the meeting and we'll send you everything you need to know. A MomsRising super volunteer will be there to lead the meeting and answer any questions you may have.
You don't need to be an expert on the legislation to attend! Do you have a story to share about needing paid sick days or paid family leave? Lawmakers need to hear from their constituents about how policies impact real families!
Join us! RSVP here: http://action.momsrising.org/survey/Sen_McCaskill_Columbia/?ak_proof=1&t=8&akid=%2E2091908%2Eo1Z5t4
There are a lot of disheartening and outrageous things happening in DC these days, but taking action in your own backyard by meeting with your Senator's in-district office during the congressional recess is a perfect, powerful antidote! Especially when we're lifting up win-win-win solutions that will really help families, businesses and the economy!
Here's the scoop: Recently two pieces of federal legislation were introduced in Congress that would go a long way in helping working families and boosting businesses' bottom lines as well as our national economy. They are the Healthy Families Act and the Family and Medical Leave Insurance Act.
>> The Healthy Families Act would set a national paid sick days standard so working families no longer have to make impossible choices between caring for their health and keeping a paycheck or job when a short-term illness strikes. Senator McCaskill has not yet co-sponsored this bill!
>> The Family and Medical Leave Insurance Act offers 12 weeks of paid leave, funded through an insurance-style program, and covers the full range of personal, medical, and family caregiver needs that were established in the Family and Medical Leave Act. Senator McCaskill has not yet co-sponsored this bill!
We need the Healthy Families Act (the earned sick days bill) because right now, 41 million workers, including HALF of all working moms, can't earn a single paid sick day to stay home when they come down with the flu — or need to care for a sick child.
Meanwhile, access to paid family and medical leave is even more dire. Only 15% of American workers – and only 5% of low-wage workers – have access to paid leave. Fewer than 40% of employees have access to personal medical leave through their employer. This is why 1 in 4 mothers return to work within 10 days of giving birth.
Let us know if you can join MomsRising and other families in your area on Tuesday, October 10th for a fun and high-impact meeting at Senator McCaskill's office about paid sick days, and paid family leave!
I hope to see you there!
Together, we're a powerful force for women and families in Missouri.
 
– Ruth, Sara, Tina, and the whole MomsRising / MamásConPoder team