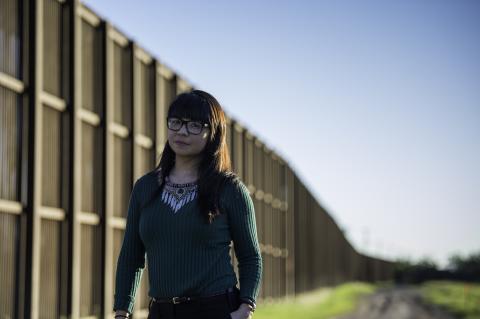 Ask Congress to Stand With 800,000 DREAMers
"My story is the story of millions: We are here, we are students, we are teachers, we are innovators and we are hard-working individuals committed to our communities." - Priscilla (Be sure to click the quote to read Priscilla's story covered in the New York Times.) 
**Ask Congress - Protect the 800,000 DREAMers like Priscilla from deportation!
DREAMers are young adults who were brought to America as small children and raised in this country, knowing no other home. As U.S. Senator Schumer stated, DREAMers are "Americans in every way but paperwork."
Priscilla, a MomsRising member, is a DREAMer. She came to the U.S. when she was just 5 years old. She not only overcame adversity but also rose to the challenge of being a surrogate mother to her siblings. She is currently a Texas teacher and her resilience and determination define the spirit of thousands of DREAMers in America -- and yet she is at risk for deportation if we don't act soon.
**Join me in asking legislators to protect DREAMers from deportation!
Nearly 800,000 DREAMers like Priscilla received much needed protections from deportation and work authorizations under the 2012 Deferred Action for Childhood Arrivals (DACA) program. DACA allowed DREAMers to have hope that they could work, go to school, and play an active part in building and supporting our nation.
However, DACA is now under immediate threat. In fact, after September 5, DACA could be tied up in courts - putting 800,000 DREAMers at risk of deportation from the country they were raised in and that they contribute to each day. Congress must take immediate action to protect DREAMers like Priscilla!
The time to act is now! Sign our letter to stand with DREAMers. 
When DACA was implemented, DREAMers came forward and went through rigorous background checks and paid a fee for a work permit in order to be able to live, work, and to continue to contribute to our nation without fear of deportation. It would be unconscionable to now close the doors to young adults who can remember no other home and who are currently working, going to school, and fully invested in building our communities and our economy.
**Our diversity makes our nation strong, innovative, and prosperous. DREAMers were raised in America and know no other home. Stand with them and DACA to protect them from deportation: http://action.momsrising.org/sign/Protect_Dreamers/
There is hope! Members of Congress reintroduced the DREAM Act, an Act that has previously enjoyed overwhelming bipartisan support. The DREAM Act would protect applicants to be protected from deportation after going through rigorous background checks and paying a fee for a work permit. It is a strong legislative solution that is gaining support from Senators from both sides of the aisle.
Help us keep this wonderful bipartisan momentum going and sign on today to ask that ALL our legislators support DREAMers, to protect them from deportation, and to advance the reintroduced DREAM Act!
**Add to the momentum! Ask your friends and family to sign our petition, too, by forwarding this link now and sharing it on social media outlets like Facebook and Twitter: http://action.momsrising.org/sign/Protect_Dreamers/
Together we are a powerful voice for ALL families.
P.S. Meet Priscilla by watching her video on our Facebook page. Priscilla is a Texas teacher whose resilience and determination defines life in America for thousands of Dreamers. Congress has the power to protect Dreamers with the DREAM Act—the time to act is now: http://action.momsrising.org/sign/Protect_Dreamers/.