Take Action!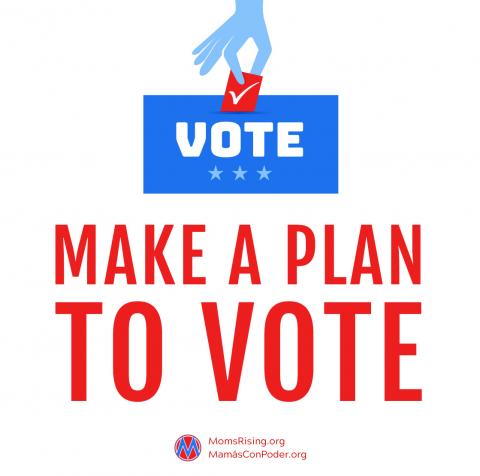 Are You Planning to Early Vote? Find Out More Here!
Early voting has already started in California! Woohoo! This means you and your friends, family, and neighbors can make their voices heard at the ballot box today—you don't have to wait until November 6th!
It's exciting stuff! I don't know about you, but we #CantWait2Vote!
***Join us by pledging to vote early, absentee, or on Voting Day (November 6th!)!
Let us know which method you'll be using to vote (early, absentee, or Voting Day!) so you can inspire others to vote too! Studies show that seeing people vote inspires others to vote as well. And, after you click, we'll send you a special "Make a Plan to Vote" checklist and a graphic that you can post to social media encouraging your friends and family to make a plan to vote as well.
Why are we sharing the importance of making a plan to vote, as well as steps that you can share with your friends to make a plan to vote too? Well, the United States of America has some of the lowest voter turnout levels of any developed nation in the world -- and studies show that one sure way to increase voter turnout is to support people in making a plan to vote! So we're doing that with this project and you can too!
A big part of increasing the level of voter engagement this year is letting people know that early voting is an option. Early Voting is a somewhat new concept but a very important improvement to our voting process, especially for busy moms and dads and working families. Early Voting makes voting more accessible to more citizens, increases voter participation rates, cuts down on voter intimidation and suppression, allows a more accurate and efficient ballot count, and creates a more informed and thoughtful electorate. In 2016, 1 in 5 voters used early voting or absentee ballots to cast their vote. 
The rules of early voting vary by state, so it's really important that you know when and where you can early vote. You can find out about early voting in California by clicking here.
No matter how you decide to vote—early voting, absentee ballot, or on Voting Day (November 6th) we want to make sure you make a plan to vote so you are prepared and excited to cast your ballot!
***Do you have a plan to vote yet? You may be able to vote early, by absentee ballot, or on Voting Day (November 6th)! (After you click here, we will send you a "Make a Plan To Vote" checklist so you have all the information and materials you need to be an informed voter, including great ideas to make Voting Day fun for kids).
From affordable health care and childcare, to equal pay, to paid family leave, whatever your issue, be a voter on (or before) November 6th! Let us know that you plan to vote and tell us why YOU #CantWait2Vote.
After you've sent in your pledge, post our action link to Facebook and/or share this blog post with five friends. We want to make sure as many people as possible get out and vote and make the preparations they need to vote. Share in the joy of voting!
We are so glad you are speaking out, using your voice, and #CantWait2Vote!
P.S. We'll be emailing this to you after you pledge to vote, but in case you want a sneak peek, here is our "Make a Plan to Vote" checklist.
P.P.S. Voter suppression is a real thing! It's important to know your rights when going to vote so you don't fall victim to voter suppression or false information. Check out our blog post here about voting rights and program the Election Protection Hotline into your phone right now in case you encounter a problem when you go to the polls→ 866-OUR-VOTE.