Are you a worried mom or dad? EPA is listening
Why are you worried about clean air and/or climate change?

What questions and suggestions do you have?
Me? I worry about the toxins and greenhouse gasses in the air that provoke breathing problems and also contribute to climate change.
I worry because my daughter, Cole, was severely asthmatic from age one through seven, and I have memories of endless, dark nights holding vigil next to her bed, watching her small rattling body fight for every breath and terrified it would lose.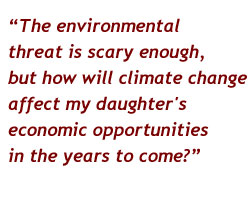 And I worry for Cole's future. Today, she is a college student, laying the groundwork for what will hopefully be a bright future. But our rapidly changing climate has increased the likelihood of severe weather events like droughts, forest fires and super storms, like Hurricane Sandy, that disrupt not only lives but economic activity in profound ways. The environmental threat is scary enough, but how will climate change affect my daughter's economic opportunities in the years to come?
My concerns about the environment are not unique – they are shared by millions of moms and dads across the United States. As EPA Administrator Gina McCarthy emphasized in a recent policy speech in Washington, DC, "It's about our children, it's about future generations." That's why, right now, EPA is in listening mode: EPA is gathering the everyday voices from around the country that will help to remind lawmakers why it's necessary to take action on climate change now.
And EPA particularly wants to hear from moms and dads.
On Nov. 14, 4:00 PM EST, EPA Administrator McCarthy will join MomsRising for a teleconference and Twitterchat, to give moms, dads and other family members the chance to share questions and thoughts about clean air, climate change and environmental justice directly with her and other top EPA officials.
You can join the teleconference by signing up here: http://action.momsrising.org/signup/RSVP_EPATeleconference/
And if you're on Twitter, you can join @MomsRising with hashtag #MomsOnClimate during the conference call!
This is a unique opportunity for individual voices to be heard by the government leaders responsible for protecting the environment and public health. In the days leading up to the teleconference, MomsRising invites moms, dads and all family members to submit questions and comments for EPA officials in the comment section below this blog post.
We will deliver all comments and questions directly to EPA right before the Nov. 14 teleconference.