An Awesome Movie for Back-to-School
A bright side to the lack of quality, new release films streaming on Netflix is that it's forced us to dig deep in their inventory on the rare occasions we get to sit down as a family to watch a movie.
Lately I've been finding that documentaries make more interesting viewing with a 10 y.o than the too-kiddie or too-adult (i.e., trashy, raunchy) offerings for what really feels like her in-between years. And we just found a gem:  an inspiring documentary called A Small Act. The landscape of the lush, rural, materially poor, spiritually vibrant village in Central Kenya is gorgeous, and empathy for the families profiled grows naturally, thanks to honest images and storytelling.
With the exception of flashbacks to images of horrific, violent genocide in the Congo and Rwanda (solution: sit next to your kids and cover their eyes for 10 seconds when the protagonist, Chris Mburu, talks about this issue and those images are shown), this is the PERFECT BACK-TO-SCHOOL MOVIE.  I realize I am totally biased on this, as I lived in Kenya 25 years ago and got to know the Central region. The vivid photography took me back to the red earth and sweet aroma of just-picked coffee beans, remembering so many faces and friends from this lush country.  But the story is a powerful one that can keep anyone's attention (age 9 and up, if you can cover eyes during the one scene when photos of brutality are shown, otherwise, for ages 13+).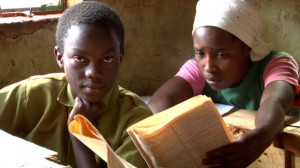 Students profiled in the film, from
www.asmallact.com
A Small Act chronicles the lucky break that Chris, now working on anti-genocide and anti-discrimination for the UN in Geneva, received when a single Swedish donor, herself of relatively modest means, sponsored his education when he was a child, to enable him to enter secondary (high) school in his poor village.  Today this costs about $40 per month, and through Chris and a female UN colleague also from his village, we see the transformation that education can effect.  The scholarship to secondary school (K-12 education is not free even for "public" school pupils in most of Africa and other very poor regions of the world) enabled them to continue into university in Nairobi and then eventually to attend Harvard Law School.  As the story unfolds we learn the humble donor from Sweden was herself a Holocaust survivor; she has no children and leads a simple, quiet life. When ethnic violence takes place following the 2007 Presidential elections, just as the documentary is being made, the story takes another dramatic turn in lives who already endure so many obstacles. 
In addition to the circle formed by the lives of Chris and the benefactor, Helge Back, the film demonstrates the harrowing pressure to overcome limited opportunity by talented students in the village.  If we thought test-taking was stressful in the U.S., and we think of high-stakes testing in China, Korea, Singapore or other countries, the reality of every child in Kenya sitting for the national exam which results in very limited slots for top students is sobering and distressing.  As a parent in America, I've raised my children with the idea that "if you want to achieve it and work hard, it's yours" or something like that.  For the families in Kenya whose lives literally depend on the test outcome, such optimism is met by an avalanche of obstacles – and A Small Act shows these without preaching.
I've been struggling to get my daughter to finish the long summer math packet she was assigned for fifth grade, yet only started last week, and watching this film was possibly the ideal motivator. I don't need to tell her how lucky she is that she even has a tool to prepare for math class or a parent who can help her or an assumption that she'll go on to high school and college, and on and on.  The film and the earnest students in it show that. The message is powerful, clear, and true. The film also serves as a nudge for any family with an inclination to get serious about supporting another child's education.  For us, the Mona Foundation offers a transparent pipeline of support to some of the neediest schools and children.  Direct sponsorship of children also can take place through churches, or organizations like Plan International, Save the Children, or even the Hilde Back Education Fund featured in the film.  The thought of our own small acts, to support a deserving child we've never met, offers a great step toward meaningful back to school.