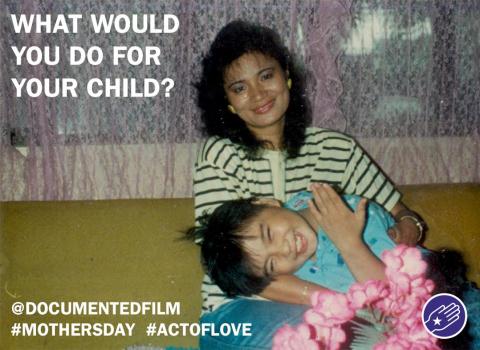 One day I woke up and my suitcase was packed. I was 12, and that was the last time I saw my mother in person.
It took years to recognize it, but what my mother did that day was the toughest act of her life--and it was an act of love. She was, in her mind, and in reality, flying me off to a land of opportunity, a place where I had a chance at a different life. For my mother, the answer to "what would you do for your child?" is "anything"--even if that meant almost unbearable separation that has now spanned decades.
So, what would your mom do for you? Moms, what would you do for your child? Would you cross oceans, climb fences, cross deserts? If so, I'd have to agree with Jeb Bush in suggesting it is an act of love.
Let's start a movement this Mother's Day and share all the acts of love we see from our mothers using #ActofLove and #MothersDay.
Groups of moms are already doing this in Arizona where the film "Documented" is showing this weekend (@Documentedfilm).
This Mother's Day, let's honor all the acts of love that define "American" and make our country great. And let's create a social media frenzy while doing so, sending a statement to everyone that immigrant mothers and mothers of immigrants represent the very best of the American spirit. Post your own photo today @Documentedfilm using #ActofLove and #MothersDay!
Happy Mother's Day from the Documented and Define American Family!
PS: Don't forget to take your mother to see "Documented" this weekend if you're in LA or Tempe. To reserve tickets and see all the places the film is screening click here.