American Moms: Unsung Heroes of a Bad Economy
American mothers are hard-hit by the tough economy, with 42 percent more women than men living in poverty and single moms especially vulnerable. Yet women work valiantly to sustain families, and remain thankful that they can manage at all.
In a new study on American families released today, the toll of tough times is painfully clear. "Parents across groups express strong feelings of frustration and disappointment with how things are going for people like them today," says the report, which was commissioned by Ascend, the family economic security program at the Aspen Institute.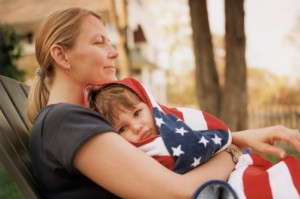 Lilly Dong
"They believe politicians are just fighting and completely out of touch. They are burdened financially—living paycheck to paycheck—as well as by the demands on their time from work and family. They are also attempting to attain the elusive goal of a sliver of leisure for themselves and a little extra for their families," reports the study, Toward a Two-Generation Strategy: Voices of American Families. "They believe the economy is bad with no recovery in sight and it is making things worse for them in terms of wages, benefits and cost of living."
Such findings won't surprise the millions of hard-pressed American parents who are struggling to support their families while juggling economic demands that often are exacerbated by the financial stresses of the holiday season.
And yet many families remain acutely aware of how fortunate they are to be managing at all; no matter what their challenges, they all know people with worse problems, and looking on the bright side is deeply ingrained in the American psyche.
Continue reading this article at The Daily Beast! It features personal stories from women and families like Amelia from North Carolina, Casey from Indiana, and many more, as well as the latest Census data and analysis of the Aspen Institute report.