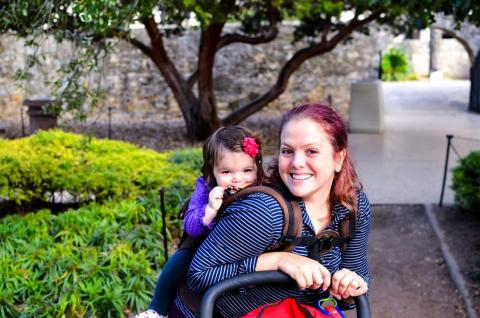 Amber: "Food is a Focal Point in our House"
Check out the latest in our series profiling members of the Good Food Force, below, and the amazing work they're doing to build healthier communities.  
My name is Amber, but I also answer to Mom, Mama, Mommy, and various combinations of screeching/whining/guttural noises from my children. I currently live in the DFW area with my husband, 4.5 year old son and 1.5 year old daughter. When I'm not wrangling small humans, I blog at www.twofaulttolerant.com.
Since my daughter has severe dairy allergies and my son has dairy and soy intolerances, food and awareness of ingredients and sources have become a focal point in our house. This year, we are making our first attempt at gardening, which my son seems to love. Here's hoping it gets him to try more fruits and veggies! I am also constantly communicating with my children's school to promote healthy food options and food safety for allergic kiddos. Through my blog, I try to raise awareness of companies who provide quality wholesome food products. I am firmly in the "no act is too small" camp when it comes to influencing change.
While I certainly don't want to discredit the wonderful influence dads have and the important work being done by them, I know that moms have power because we tend to be the voice of our families, especially the members (like children) who cannot be their own voice. We are in a unique position to influence the world around us simply by using our voices, and I think that's a wonderful, powerful thing.
Good Food Force (GFF) Volunteers are real-life superheroes who take action in their schools and communities, and/or on their blogs and online networks, to advocate for healthier kids and families. Volunteers do what they want, when they want. Join us!