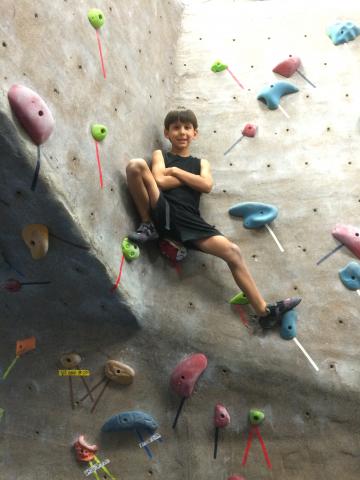 When my twin sons, Nick and Jack were born in 2007, I was overwhelmed and thrilled. When Nick started missing his milestones, I was concerned.  We took him to pediatricians who sent us to psychologists, occupational therapists and autism specialists who performed evaluations and tests. When Nick was two, he was defined as having Sensory Processing Disorder (SPD). SPD is a condition that prevents the brain from interpreting sensory information correctly. When he was 7, he was also diagnosed with Autism Spectrum Disorder. Nick was very challenged by auditory, visual and tactile stimulation but craved intense movement.
The doctors and therapists tried to help us adjust to the idea that he would never process his world the same way other children do. We were told to be prepared for him to have cognitive deficits, exhibit poor social skills and fail, or at least have, severely delayed abilities. They explained that he would never ride a bike or be able to keep up with his twin or peers. He would be far behind his twin brother and not gain the skills he needed to perform as a typical child.
Coping with a Disability
This was not possible. I had two beautiful boys and I couldn't just let one "fail." We went back to the experts and specialists. Therapists taught us that there are things Nick can do very well and focused on reaching him through movement. In a sensory gym, occupational therapists combined his cognitive training with physical exercises like swinging, climbing and jumping.
You Are What You Eat
At the same time, I found a support group for parents where I learned about parenting a child with SPD and Autism. I also learned about the higher rate of food allergies in these spectrum children. After testing, both of my sons were diagnosed with Celiac disease, an autoimmune disorder of the small intestine triggered by eating gluten-containing foods that causes poor nutrition absorption and abnormal development. After learning about the diagnosis, I purged our entire house of gluten, dairy and other allergens. I switched our family to local and organic foods, removing ingredients that irritate the body's ability to heal.
It was not easy, but after months of nutrition and therapy, we started to see a new child emerging, a boy outgrowing his therapy gym. When I was contacted by a local university to pilot a rock climbing outreach event for children with disabilities, we jumped on it. In October 2013, Nick and Jack had their first climbing experience on a 32-foot indoor tower. They both had a wonderful experience. The volunteers at the event suggested we take the twins our local indoor climbing facility to continue exploring this as a new family activity.
Never look down or back
We visited the indoor climbing gym the following weekend and were really surprised to see Nick's passion for the sport and this new opportunity. We were so impressed with the staff and their acceptance of a child that is different. Climbing is a very mental sport, but also played to Nick's physical needs. Soon, Nick was showing his skill and more focus than other kids his age, both indoors and outside in the North Carolina mountains. In 2014, Nick began competing as a member of the gym's competitive climbing team and travels to compete with the USA Climbing series. While he still struggles with the social components of competition, Nick had had several wins locally and finished as high as 3rd in the Mid-Atlantic region and received invitations to compete in USA Nationals in the 11-year old and under category.
The same week he competed at semi-nationals, Nick had his reassessment as a special needs/exceptional child at our school. They removed his EC classification because he no longer met the criteria of a child who needs special supports to be educationally successful. I never thought we would reach this point, especially after all the experts proclaimed a different future for our son.
Nick's early years were full of discouraging and confrontational meetings. I learned the value of early intervention, therapy, nutrition, partnerships, advocacy and dedication while putting in my effort on the ground. Nick learned that success can be won with focus, passion and fitness while in the air. Together, we learned he will surprise us all and will always have to find his own path to overcome limits others see as insurmountable. He has plans to increase his dedication to nutrition and his time on the wall. I hope to be there with him, with a camera, and both my feet firmly on the floor.