AllBusiness.com reports on the benefits of treating employees better
Labor Day marks the one year anniversary of the publication of
The Custom-Fit Workplace
.  I regret to report that we have not transformed modern work culture...yet! The good news,  this Labor Day,  is that
allBusiness.com
, a leading online resource for small business, featured a detailed article about Custom-Fit Work opportunities for Labor Day.
Read it
and see if you can envision work norms that honor the lives of all workers.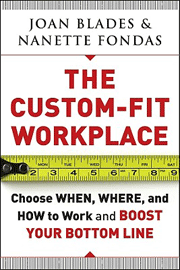 Bottom line-
1. The modern workforce is vastly more diverse than the workforce of the 50s.  Modern workers need job structures that better fit the realities of their lives.
2.  The good news is, flexibility, telecommuting, non-linear career paths, and results based management are good for the bottom line as well as the workforce.  Research backs this up.
3. That said, shifting from authoritarian command and control management styles to trust based management that respects and empowers workers is profoundly challenging.
4. Most best work management practices are merely a scattering of glowing examples while by and large business as usual persists.  (The idea that businesses will naturally do what is best for the bottom line is no more true than the concept that a free market will fix everything.)
5. How do we shift to new modern workplace norms and replace outdated norms?   Can we recruit cultural champions as well as business leaders, HR and academic champions?  Can we leverage the disruptive technologies in the realm of telework that are already changing the way we work? Working 24/7 is a downside of our increasingly connected work options.  Working where and when we want is an opportunity to amplify our productivity and live more balanced lives.
Share your work story!  Does your work fit or not?