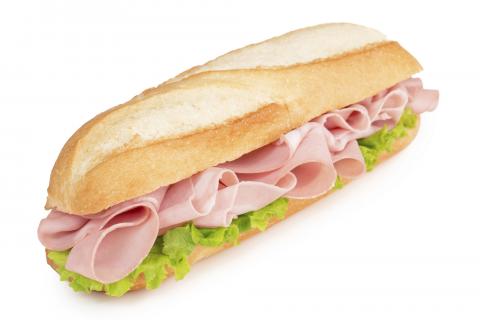 All Salads are NOT the Same: Why Menu Labeling Matters
Guessing games are fun, but not when it comes to knowing what's in the food I give my kids.
DYK that a pecan roll at a popular coffee shop has almost DOUBLE the calories of a chocolate pastry? Or that a turkey sandwich at a popular convenience store has nearly TWICE the calories as a beef burrito? [1] YES. Shocking, right?
That's why I'm such a big fan of menu labeling in restaurants. It gives me the information I need to make healthy choices for my family. Eating out shouldn't be a guessing game. 
Add your voice in support of menu labeling today -> http://action.momsrising.org/sign/menu_labeling/
Federal requirements around menu labeling have been in process since 2010, but we need to make some noise to get them over the final hurdle. Soon all restaurants, convenience stores, supermarkets, movie theaters and similar establishments with over 20 locations will be required to list nutritional information including calories, fat, sugar and sodium. [2] Really helpful, right?
And in fact a few states, counties, cities and establishments (Starbucks, Panera and others) have already implemented menu labeling. In one of these cities, New York, 82% of consumers reported that labeling had an impact on what they ordered. [3] 
But parents like us need to keep the pressure on the Department of Health and Human Services (HHS) and the Food and Drug Administration (FDA) to finalize guidance as soon as possible, so ALL families ACROSS THE COUNTRY benefit from menu labeling, too.
Join us in telling HHS and FDA to finalize menu labeling as soon as possible -> http://action.momsrising.org/sign/menu_labeling/
Parents know what a difference having this kind of information makes. Families eat out almost twice as often as they did in the 1970s, and kids consume about 1/4 of their daily calories at fast-food and other restaurants. [4]
And let's be real: many of the options on the menu aren't healthy. At one popular establishment, a side order of corn bread has over TWICE the calories as a side order of fries. [1] I would never have guessed that! That's why menu labeling is SO important. It helps parents like us know the facts and make the right choices for our families. 
Eighty percent of Americans support menu labeling in chain restaurants, and 81% support having restaurants provide information about prepared foods. [1] Labeling will make a big difference when it comes to the health of our families, too. Studies show that providing nutrition information at restaurants can help people make lower calorie choices, and encourage restaurants to introduce lower-calorie items or change recipes to cut calories on current items. [5] It just makes sense all around. 
So if you haven't yet, please take a moment to add your support for menu labeling now -> http://action.momsrising.org/sign/menu_labeling/. 
Thank you for being a strong voice for healthy communities! 
- Karen, Monifa, Migdalia, Bea, Felicia and the rest of the MomsRising.org team! 
[1] http://cspinet.org/new/pdf/factsheet-why-menu-labeling2011.pdf
[2] https://www.cspinet.org/menulabeling/
[3] http://cspinet.org/new/pdf/nyc_review_fact_sheet.pdf
[4] http://www.ers.usda.gov/topics/food-choices-health/food-consumption-demand/food-away-from-home.aspx#.UuATMRAo7ct
[5] https://www.cspinet.org/new/pdf/yale_rudd_ctr_menu_labeling_grouped_studies.pdf
---
Like what we're doing? Donate: We're a bootstrap, low overhead, mom run organization. Your donations make the work of MomsRising.org possible--and we deeply appreciate your support. Every little bit counts. Donate today on our secure website.
On Facebook? Become a Fan. Follow us on Twitter.
Want info from MomsRising.org in Spanish? Sign up to receive emails from our Spanish-language community, MamásConPoder.org!
What should MomsRising tackle next? Tell us what's on your mind.