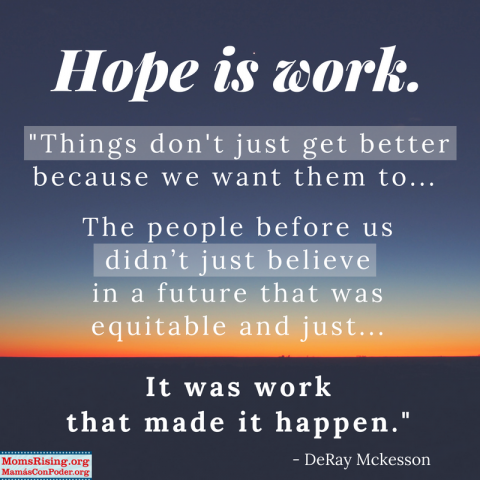 All New Risers Radio: #HOPEtimists !
Have you been looking for mor4e MomsRising in your life?
We've got another diverse panel of guests for a brand new episode of our Risers Radio show Breaking Through this week.  
We cover how the power of our stories can change the nation and we address why telling someone to "go back" is so racist and horrifying.
We'll also discuss what you can do to help stop the human rights abuses currently happening in the name of immigration enforcement and then we'll close out the show hearing about a burgeoning program for rising leaders.
*Special guests include:
Award-winning author, Emmy-nominated film producer, and MomsRising consultant, Dream Hampton  @dreamhampton

Former executive director of the National  Asian Pacific American Women's Forum and Diversity, Equity and Inclusion consultant, Miriam Yeung @miriamyeung:

Women's Refugee Commission, Michelle Brane @wrcommission 

MomsRising Washington State MomForce Fellow Carolyn Solitaire  @MomsRIsing
Remember to join the conversation by using the hashtag, #RisersRadio, on Twitter!
Listen HERE:
Tune In: http://tun.in/tjcBpc
iTunes: https://podcasts.apple.com/us/podcast/hopetimist/id533519537?i=1000445594763