We Are MomsRising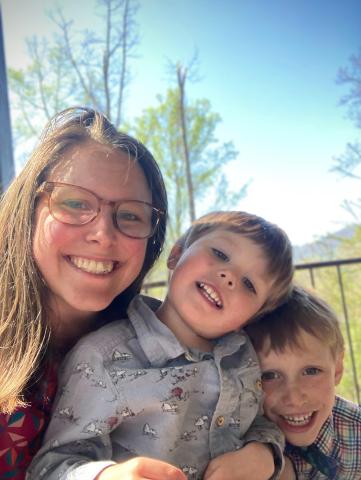 "All moms have superpowers." Yes, Rachel!
#WeAreMomsRising uses personal stories to showcase what it means to be a mom, a woman, and a family member in America. 
Today's #WeAreMomsRising story comes from Rachel in North Carolina. Rachel is a Beacon Community Hub Leader, part of a network of volunteer Super Mom organizers partnering with MomsRising to develop leadership skills, build mom power in their communities, and make change at the local, state, and national levels. To learn more about the Beacon program, email keepmarching@momsrising.org.
What's your superpower?
All moms have superpowers. I think my superpower is that I always have a book with me so I'm never bored.
Why did you become a MomsRising Beacon? 
The pandemic was a catalyst for me to get more actively involved in advocating for policies that support women and children. I want things to be better for myself and my kids, but also for every family. I was teaching at my kids' preschool in March of 2020. In one fell swoop, I lost my job and our childcare when our preschool closed. I started advocating for more childcare and early learning in my own community and started volunteering with MomsRising. I am excited to take this next step and become more involved as a MomsRising Beacon.
What's been one of your favorite activities as a MomsRising Beacon?
I am incredibly inspired by all of the other Beacons. It's been wonderful to learn about what passionate moms are doing across my state and across the country.
Who has influenced who you are, what you believe in, and what you're committed to in your work and life? Tell us about them. 
My grandmother was a stay-at-home caregiver to four daughters. I inherited her love of good cooking. Like me, she really enjoyed being a mom. At that time, however, she was limited in what she could do outside of her home because of her caregiving responsibilities. I think about her and how far we've come in making progress for women and families, but we still have a long way to go. 
What are you looking forward to?  
I recently started a new job after being unemployed for two years due to the pandemic and my caregiving responsibilities. I am looking forward to getting back into the workforce after an unexpected hiatus. I am excited that my oldest son is in public school and we found a great childcare center for my preschooler. I know that we are fortunate to have childcare while my husband and I work. It is something I want for all families.