All I want for my Birthday is Fair Pay before I'm 50!
It's getting down to the wire, so today we made a last minute mad dash into the city to tell Senator Brown why the Paycheck Fairness Act is so important to moms in Massachusetts. Members met at Sen. Brown's office with clam cookies in hand to give voice to the experiences of moms who are missing some clams out of our paychecks!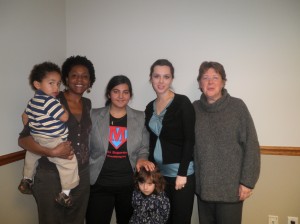 MomsRising members stand up for Paycheck Fairness at Sen. Scott Brown's office!
Luckily we were able to address some of the Senator's main concerns and have a dialogue about the simple measures the Paycheck Fairness Act will create in its passing (fingers crossed!) . With moms and kids at the table we addressed the issues specific to our lives and families and how this much-needed legislation will change our lives and that of our children. As our kids ran wild in the conference room and munched on cookies, moms shared their stories.
Marisa Pizii, a mom from Easthampton, MA shared her story with the Senator's staff, noting, "Women of color earn even less, about 69 cents to a mans dollar. Even with  my Masters degree I still won't catch up to my husband's earnings by retirement, even though he only has a bachelor's. It not only affects me, it affects my children. That's savings for my son's college that I'm not able to retain due to unfair practices on behalf of businesses who lack oversight. "
clam-o-gram cookies send the message for fair pay:
A local business owner shared the fact that this is often times a moot point for small business because they are often "doing what is right for employees anyway, just because its the right thing to do!" A member from AAUW was able to back us up with research and statistics and I shared stories of some of our members across Massachusetts that MomsRising had collected.
As usual with legislative drops involving my daughter Sora, the walk back to the car was filled with questions and concerns about why we were there?  And the obvious "but who says boys should get more mama? That's not fair!"  One thing she did take away from the meeting was that the vote would be soon- and so is her birthday.... So this year Sora said she wants Paycheck Fairness as a gift from her Senator, because it's not fair to make her wait until she's 50 to close the wage gap.