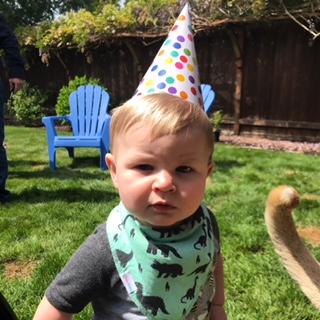 All Children Deserve a Strong Start
Becoming a parent means learning to live with an ever-present anxiety. With every meal, every doctor's visit, every purchase of diapers or rash creams or bottles, you're left wondering if you are doing this right. Could I be doing something more to give my child the best possible start in life? Like all parents, after we had our son last year, we struggled to keep our anxiety in check, but we were luckier than so many other families that we didn't have to stress about finding high-quality child care.
I'm one of the fortunate few new moms who received generous paid leave after the birth of my son. My husband and I had flexible work schedules and family in the area who could look after him once I returned to work. After just six months on a waitlist, our son was admitted to one of the most sought-after child care centers in Eugene.
I've been consistently impressed with the quality of care at the center. They care for the kids from 7am until 6pm every day, which is perfectly compatible with our work schedules. The center is also accommodating of our personal preferences when it comes to things like meals and sleep habits. The providers focus on early learning, ensuring he meets milestones. It helps that they keep him with other children who match his level of physical and emotional development. There's very little staff turnover and always a healthy provider-to-child ratio. In his time at the center, I've seen my son develop sign language skills and expand on his walking and climbing skills through the developmentally focused toys.
We're incredibly lucky that our son has had the opportunity to be in such a healthy, nurturing environment -- much luckier than many other parents in Oregon and around the country. Our child care center is one of the best in the area, but it's also one of the most expensive. We both have full-time jobs that pay well, so we can make it work. Many other parents cannot.
These programs give children a strong start in life by stimulating their learning and growth, but in our country today, low- and middle-income families simply can't afford them. Parents are left with few options -- they may be forced to settle for a subpar child care facility, scramble to fill the gaps with family and friends, or leave the workforce entirely. This hurts our families, our communities, and our economy.
Our children are our future -- we should be doing everything we can to set them up for success from the day they're born. Lawmakers must prioritize family-friendly policies and pass legislation like the Child Care for Working Families Act, which was introduced in Congress last fall. Every child deserves the kinds of opportunities that high-quality early learning can provide, regardless of their family's financial situation.