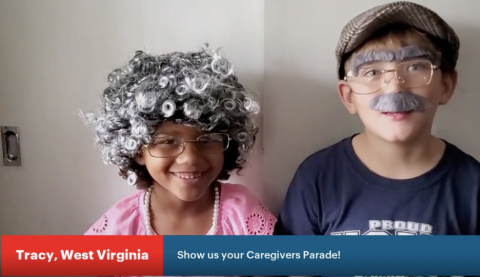 Across the U.S., Moms Host "Caregivers Parades" Calling on Congress to Build a Care Infrastructure
In October, MomsRising members held dozens of "Caregivers Parades" to lift up the importance of caregiving. In Arizona, Georgia, Michigan, Montana, New Jersey, North Carolina, Pennsylvania, Virginia, Washington, West Virginia,and Wisconsin, children and parents dressed up as teachers, grandparents, health care workers, and other essential caregivers and recorded videos to share why they are grateful for caregivers -- and why caregivers need support. 
Each video is unique and guaranteed to bring a smile to your face! For example, one Georgia mom and her kids went door to door passing out buttons to her caregiving neighbors, and then videotaped their reactions of surprise and gratitude. Another volunteer videotaped a classroom of children on parade at one child care center in West Virginia. Dozens of other moms asked their children, "What does your teacher, grandmother, or grandfather mean to you?" and then recorded their wise and precious answers.  Videos of some of the caregivers parades are available here for you to check out!   
At the parades, families carried the message that "Care Can't Wait" and that for children, families, businesses and our economy to thrive, Congress must pass comprehensive care infrastructure policies including paid family and medical leave, child care investments, home- and community-based services for older people and people with disabilities, and a fully refundable Child Tax Credit (CTC). Congress is debating the Build Back Better budget reconciliation package right now.