1st in a series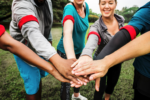 A Woman-Centered Economic Agenda: Cut Poverty in Half by Ensuring Equal Pay
Ensuring that a growing economy is equitable and benefits all workers is an important policy priority for all elected officials. Given that women's earnings and economic security are central to the health and well-being of U.S. households and the overall economy, each election cycle presents an opportunity to highlight the policies that would help women have access to the jobs and benefits workers need to ensure economic security for themselves and their families.
This post is the first in a series outlining eight key policy priorities that are critical for increasing women's economic opportunities and securing their futures. This was originally published on the IWPR website.
Almost half of the United States workforce is female and women are now the sole or co-breadwinner in half of American families with children. Women also receive more college and graduate degrees than men. Yet, women continue to earn considerably less than men, which translates into lower retirement benefits and less income for families. The economic impact of persistent pay inequalities is far reaching. Closing the gender wage gap is key to reducing poverty among women in every U.S. state and nationally. IWPR's analysis shows that if women received equal pay, poverty for families with a working woman would be reduced by half (see Figure 1, below).
Figure 1. Equal Pay Would Reduce Poverty by Half for Families with a Working Woman
Source: IWPR calculations based on the Current Population Survey Annual Social and Economic supplements, 2014-2016, for calendar years 2013-2015; all in 2016 dollars.
If the rate of progress continues at the same slow pace, however, it will take 40 years—or until 2059—for women to finally reach pay parity. For women of color, the rate of change is even slower: Hispanic women will have to wait 205 years (until 2224) and Black women will wait 100 years (until 2119) for equal pay. A lack of transparency within the workplace—for example a majority of workers surveyed reported that they are either forbidden or strongly discouraged from discussing their earnings with coworkers—often leads to wage discrimination, discrimination in promotions and fringe benefits, and restrictions in access to jobs with higher pay, which includes, but is not limited to, lower commission earnings and inequality in access to lucrative clients or accounts.
Practical steps that can help narrow the wage gap include:
■ Form a local equal pay task force to track progress on equal pay in your city/state;
■ Pressure city and state governments to require all contractors to publicly report the details of their gender pay gap and take remedial action;
■ Push companies to end pay secrecy practices and encourage open discussion of pay among employees; 
■ End the practice of basing new salaries on a worker's salary history. An IWPR study shows that S. economy would have produced additional income of $512.6 billion dollars (in 2016 dollars) if the gender pay gap were eliminated.