A Wish List for Moms & Moms-to-be
Co-Authored by Michelle Noehren & Michelle Pompei
We've been advocates for women's rights for a while and while we have been big supporters of advocating for working moms in particular, nothing really prepared us for what life would be like as we each started our own families. The inequities faced by moms and moms-to-be have only become more glaring and our drive and passion to support moms is stronger than ever.
We're two Michelles at different points in our motherhood experiences. Michelle Noehren is expecting her first baby in May of this year while Michelle Pompei had her son Phineas this past fall and is enjoying life with her new little family. We've brainstormed our own comprehensive wish-list for moms and moms-to-be in the United States.
Wish List for Moms-to-be
By Michelle Noehren
1. Workplace Flexibility
No one really tells you that pregnancy might not be a walk in the park. I thought when I eventually got pregnant I'd keep up with my running, stay fit and it would be all rainbows and sunshine. My reality has been far, FAR different. Instead, I was hit with very extreme nausea that did not subside for three very long months. I now know that many women have similar experiences and it's only fair to us as working women that our workplaces provide us with the flexibility to take care of our health while also taking care of business.
2. Paid Sick Leave
Access to paid sick days is critical during pregnancy. If you're like me, just getting through a work day when you're sick with a pregnancy-related illness can be incredibly difficult. Additionally, a pregnant woman sees her doctor: once a month for weeks 4-28; twice a month for weeks 28-36; and every week after week 36 until birth. Research has shown that prenatal care is critical for a healthy pregnancy and the development of a healthy child. Providing paid sick leave for pregnant working women really is a no-brainer.
3. High Quality & Affordable Health Insurance
You know those doctor's appointments I just mentioned? They all cost money and without health insurance, pregnant women face exponential healthcare payments. Or – they may just skip out on prenatal care altogether which really isn't helping anyone.
4. Access to Free or Affordable Doula Services
Birth in the U.S. has become so medicalized that I'm sure many of you reading this don't even know what a doula is. According to DONA International, a doula is a trained and experienced professional who provides continuous physical, emotional and informational support to the mother before, during and just after birth; or who provides emotional and practical support during the postpartum period (I'll leave this part to Michelle P.) Having doulas present at births means labors are usually shorter, babies are healthier and usually breastfeed more easily. Interestingly, most health insurance companies don't cover the cost of doulas even though they save them a lot of money by reducing the need for costly medical interventions and increasing the chances of having a healthy mom and baby. Women should have access to a wide array of birth choices and access to doulas should not be limited to those who can afford these out-of-pocket costs.
Wish List for Moms
By Michelle Pompei
1. Access to Free or Affordable Postpartum Doula
I was terrified of going home with my new baby. Even though I read every book about baby care and breastfeeding, when reality hits, those books were as good as kindling and filled me with self doubt. Toss in some hormones, pain meds, sleep deprivation and physical exhaustion from labor...I was a MESS. A doula can help boost a new mom's confidence in the first critical weeks, especially with breastfeeding. You can't really be "taught" breastfeeding until you actually do it and you're likely to have some difficulties at first. Having someone in the comfort of your home to guide you can lead to happier, healthier babies and moms (and dads!) with a better chance of continued breastfeeding.
2. Paid Maternity and Paternity Leave
Many women today are faced with the difficult decision of staying home to care for their babies or return to work outside the home. Neither is an easy decision (the Mommies War is a whole other topic). Women should be paid to stay home with their babies for up to one year, like so many other countries, with a guarantee of returning to their former position. Heck, I'd take even six months. It is equally important for the family to have dad be with his family during the first few weeks to help the family adjust. His support is crucial for the success of mom's breastfeeding. My husband got to take two weeks off from work and it was a difficult adjustment when he returned to work, and this was our first child. Having other children would have been incredibly difficult. I know other women who are SAHMs (stay-at-home moms) and their husbands do not get any paid sick time, so when dad takes time off to be with the family after delivery, it is completely out of their pocket.
3. Women Who Tell You the TRUTH
Parenting is blissful, every second. All your friends have gifted children. Other moms are perfect and have everything under control. You will bond with your child right away. LIES, they're all LIES. Parenting is messy and you feel like you're making it up as you go (and the reality is, so is everyone else). When Phineas was born, I didn't bond with him and wasn't in love with him, and I felt evil for it. I seriously thought something was wrong with me, I did love him with all my heart, but it wasn't what I had imagined. I felt this way for weeks and the guilt weighed heavy on me. When I stated to get a handle on being a mother and started to bond, I starting sharing my feelings...and most other mothers had similar experiences. I am now so in love with Phin I feel like I could burst. I think women need to be honest with each other, and lean on each other for support instead. Womanhood should be honest, shared and cherished...it is not a pissing contest.
4. Work Place Flexibility
Although my infant is not in daycare (I'm currently unemployed but looking for a job, he will then be in daycare), I can see down the line the problems that may arise. If an infant is sick (even teething related fever), most day cares require 24 hours before you can bring him back to daycare. It would be wonderful for parents who work in a safe office environment to be able to bring Baby to work, work an alternative schedule or work from home. If Lucia Ronzulli can bring her baby to the EU Parliament, many other moms and dads can bring their babies to work.
What do you think of our list? Is there anything you'd like to add? Post a comment!
-------------------------------------------------------------------
About the authors: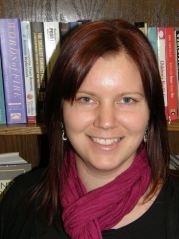 Michelle Noehren is the Events & Special Projects Manager at the Connecticut Permanent Commission on the Status of Women. She serves on the Connecticut National Organization for Women's Board of Directors.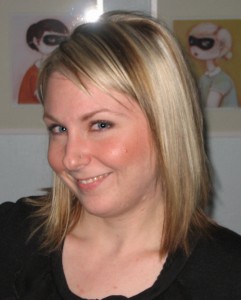 Michelle Pompei is a stay at home mom to Phineas, 4 months, who is a feminist in training.  She lives in Savannah, GA carving out her dreams with her husband and two dogs.