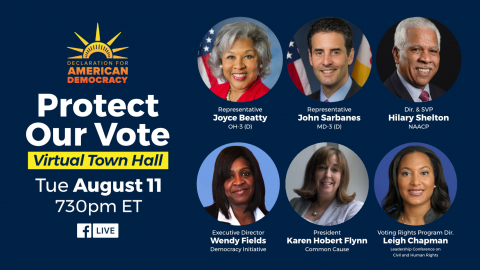 A Townhall on Protecting Our Health AND Our Vote
Not only is our country facing unprecedented public health and economic crises, but our democracy is in crisis, too.
We have seen the devastating effect of voters forced to choose between their health and their vote in the Wisconsin and Georgia primaries, where thousands of voters had to wait in crowded lines for hours to cast their ballot.
Voters should not be forced to choose between our health and our right to vote. And the truth is-- we would not have to if lawmakers prioritized our most basic human rights.
The Senate Republicans proposed $0 in funding for safe voting during this pandemic in their COVID19 stimulus package. But there is hope. Negotiations with the House, which allocated $3.6 billion, are ongoing. 
Join us on Tuesday, August 11, at 7:30 p.m ET to learn about how we can push in the home stretch of the effort to ensure that we don't have to choose between our health and our vote.
Here's the good news: we know what policies work to protect our vote and our health. Voting by mail or absentee ensures that voters can participate in our elections without having to venture outside during the pandemic. Expanded early voting will ensure that voters that need to vote in person won't be faced with long lines and massive crowds. 
But in order to win funding in time for the November election, we need to demand our elected officials act now by including at least $3.6 billion in the upcoming COVID stimulus bill to fund these efforts.
Join us on Tuesday evening to learn about ways that we can ensure that no American has to risk their life to cast their vote.