A Tip of the Hat for Congress Members Who Support Immigration Reform That Is Fair and Inclusive of Immigrant Women and Families
Photo below: The MomsRising members, bloggers and children who turned out in D.C. last week to let Congress know that we support immigration reform that is fair and inclusive of immigrant women and families. Two-thirds of all immigrants are women and children.
WASHINGTON, D.C. -- Last Tuesday, June 18th, MomsRising.org joined the We Belong Together women's coalition to advocate for immigration reform that is fair and inclusive of women and families. About 100 of us flew in from all parts of the country, organized ourselves according to state, and spent the day visiting our Members of Congress and their staff.
Photo on right: "Thank You" posters signed by all of us to Members of Congress who support immigration reform that treats women fairly.
We were armed with information for Senators who had not publicly voiced their stance on immigration reform. We tipped our hats and awarded "Thank You" posters to the Senators who supported our platform, and gave feather dusters to those who didn't -- as in "Clean up your act on Immigration Reform!"
Photos below: On our way to the Hill; the California contingency, of which I was a part.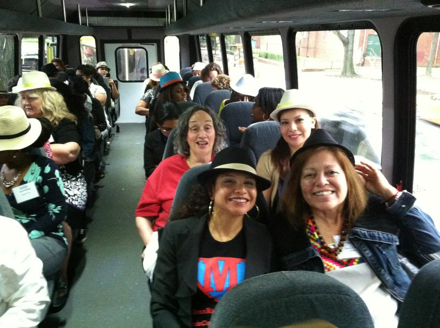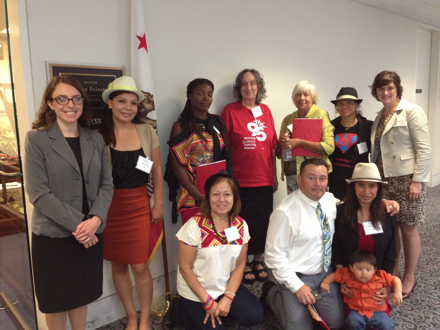 Photo: Three of us, who happened to be in an elevator with an intern from Senator Mark Udall's office, gave him a tip of the hat for the Senator's support of immigration reform.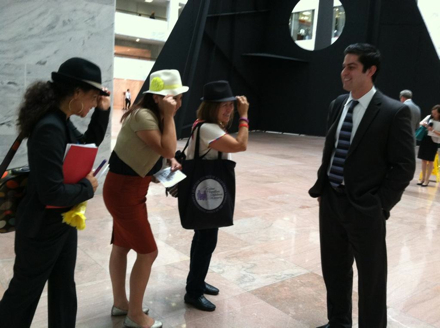 Photos: Encouraging one Senator to clean up his act on immigration reform; the bewildered staff member who eventually opened the door.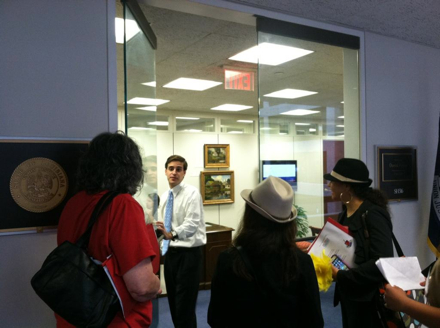 In case you were wondering why some of us wore fedora hats on the Hill -- such as myself and bloggers Lorraine Ladish (Mamiverse) and Tyra Gross (MomsRising) below -- we did so as part of We Belong Together's "Fedoras for Fairness" campaign. You can participate by submitting a photo of yourself wearing a hat to MomsRising's Facebook page.