A Sweet AND Healthy Halloween? It's possible. Here's how.
Candy, candy, candy! From classroom parties to grocery store aisles to trick or treat hauls, Halloween seems like a night dedicated to the joys of sugar. It's okay to indulge and enjoy the holiday. But what about the leftover candy after the holiday is over? And is there a way to incorporate fun, healthy snacks into the season of excessive candy? Absolutely! Here are a few fun tips to help you come up with new, healthy ways to enjoy the holiday, as well as ideas on what to do with all that end of Halloween candy.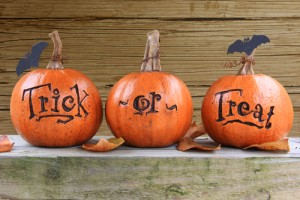 Pumpkin Seeds: Make the most out of your jack-o-lantern by turning those handfuls of pumpkin seeds into a yummy, crunchy snack. Not only are roasted pumpkin seeds delicious, but they're also healthy: They're high in protein, fiber, and various vitamins and minerals.
The Basic Recipe: 
Wash and dry pumpkin seeds so that all of the pumpkin bits are removed
Preheat oven to 350
Spread out in a single layer on a lightly oiled or foil wrapped cookie sheet
Drizzle with oil, sprinkle with salt
Bake for about 20 minutes (The seeds should look golden)
To liven up the flavor, try other spices! You can add chili powder, cinnamon and sugar, cumin---sprinkle your spice of choice on the seeds when you add salt to the seeds before baking. Click here for my recipe for the World's Best Savory Pumpkin Seeds, and check out the great MomsRising jack-o-lantern patterns that you can use when you're carving your pumpkin.
Festive Fruit: Create one of these healthy snacks, or desserts, as a Halloween treat! Even though they have a spooky, festive-theme, they're all focused on healthy fruits.
Spooky Veggies: Keep up the Halloween fun with one of these yummy, kid-friendly Halloween snacks! All of these snacks are focused on vegetables, and would make a great lunch time treat or after school snack. They could even become part of a festive Halloween party menu.
Treats to Give Away: Try a non-candy giveaway this year for Halloween. This week on MomsRising radio, I shared a few ideas about what you can pass out instead of sweets. Try stickers, cute school supplies, or kids books. You can also hand out a healthy treat like trail mix or pretzels.
If you hate the idea of not handing out candy, but don't want too many sugary leftovers in the house, pay attention to your Halloween candy shopping habits. Think about how many trick or treaters you usually have, and buy candy in a way that doesn't promote a lot of excess treats after Halloween.
Candy Planning:  Once trick or treat time has come and gone, what do you do with that mountain of treats? If you want to keep the holiday fun, but lose the sugar rush, it helps to go into Halloween with a plan of action for excess candy. "My girls love candy, of course, but I'd love to create a Halloween tradition where they expect that we put away the candy and then they have fun with other things they receive, like stickers and pencils," says Anita Jackson. "We did that last year--they got one piece of candy a night for a little while, and then we tossed the rest. They forgot about the leftover candy, and still got to enjoy a sweet Halloween."
Celebrate Green has great tips on donating overflow candy to soldiers, women's shelters, and nursing homes. You could also try out the switch witch: You can modify the switch witch whichever way works best for you, but the basic premise is that kids trade in most of their candy haul for an exciting toy on Halloween. Click here to learn more about how to start your own switch witch tradition.
***
Want to help families? Join MomsRising today - it's free!