#GivingTuesday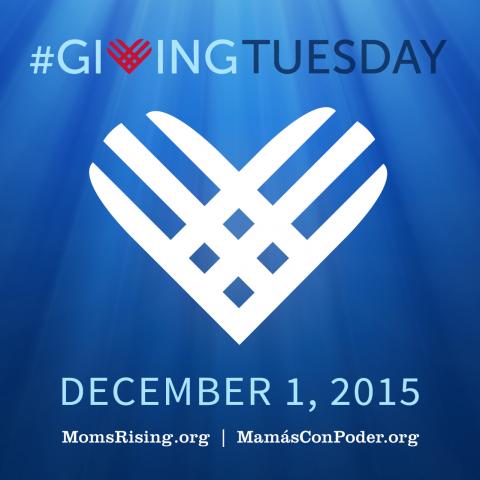 A Special Match for #GivingTuesday
You gave thanks. You ate delicious food. You got deals. Now, it's time to give back!
Today is Giving Tuesday, a national day of celebrating and supporting the causes that matter most to us – like making the world a better, safer, more just place for women, moms and families.
To mark this day, another generous donor has offered to give $25 for every contribution today – in any amount! Make a gift, unlock this special match for Giving Tuesday!
Our goal today is to recruit 100 new and returning MomsRising donors today for Giving Tuesday. I hope you will become one of them!
Your support today will help MomsRising dial up the fight for pay equity, push harder for gun safety, and turn up the pressure for paid family / maternity / paternity medical leave.
Today is your day to join MomsRising. Make a contribution – whatever you can afford right now – and another donor will match your generosity with an additional $25 gift in honor of Giving Tuesday!
Your $5 gift becomes $30
Your $10 gift becomes $35
Your $25 gift becomes $50
You can help so many moms and families with your contribution today…please don't wait another minute to take advantage of this 1-day only special match.
Thank you for ALL the ways you give back to moms and families.
Happy #GivingTuesday!
P.S. Are you pumped and ready for a monthly commitment to MomsRising? Become a MomsRising Champion monthly donor today and every dollar you pledge will be matched for the next 12 months, DOUBLING your power to help moms and families. Thank you!