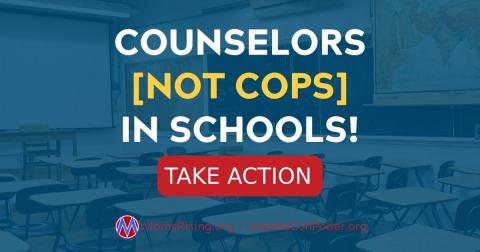 A Special Juneteenth #5Actions: Saturday, June 19, 2021
"Juneteenth Independence Day," "Freedom Day," "Emancipation Day." June 19th has been called many things over the years but essentially it represents the idea captured so poetically by Maya Angelou that, "The truth is, no one of us can be free until everybody is free."
On June 19, 1865, more than two and a half years after the signing of the Emancipation Proclamation and two months after the Confederate surrendered to the Union in Appomattox, Va, Union soldiers arrived in Galveston, Texas, to inform enslaved African-Americans of their freedom and that the Civil War had ended. The holiday received its name by combining June and 19.
We at MomsRising are uplifting these sentiments of togetherness as we continue to fight for moms, parents and families during these uncertain times.
This week we are inviting MomsRising members across the country to join us in recommitting to the fight for racial justice for families. Now more than ever we must remember that while Juneteenth is an important historical marker, it also signifies the resilience of Black communities and the need to continue to fight for racial justice now and ongoing until we are all free of the harms and toxicity of white supremacy.
This week we have a wide range of important actions for you to take as you start your weekend from urging congress to pass a Care Infrastructure, as well as the Counseling Not Criminalization Act - which is aligned with the BREATHE Act, addressing voter disenfranchisement and gerrymandering, to supporting the Black Maternal Health Momnibus, and more. You can see the actions important to moms, dads, parents, caregivers, and grown ups across the country below.
-- Beatriz, Kristin, Sue Anne, Jordan, and the rest of the MomsRising / MamásConPoder Team
Combat Systemic Inequalities Through Building a Care Infrastructure
Women, particularly, women and moms of color due to structural racism, have borne the brunt of this pandemic. The White House itself has noted that 2.3 million women have been forced out of the labor force. In January alone, 1.4 million fewer mothers of school-aged children were working for pay than had been in the previous year. Of those who lost their jobs —over 600,000 are Black and 618,000 are Latina.
The data is in and has shown the pandemic has had an outsized impact on women and moms, with women and moms of color experiencing compounded economic and health harms.
Importantly, the data also shows that investments in policies like universal paid leave and childcare for all can help combat systemic inequalities experienced by people of color. The facts don't lie -- for instance, child care right now is least affordable for Black and Latinx families with low incomes, Native American and Latinx communities are more likely to live in child care deserts, and Asian American and Latinx children have particularly low levels of access to child care subsidies. Increasing access and affordability to childcare and to universal paid leave -- especially in ways that include provisions such as job protection, progressive wage replacement, non-discrimination protections, and more -- will be part of combating systemic inequalities and helping to ensure that all families can thrive.
Join us in urging Congress to: Build a Care Infrastructure ASAP! Why? Because childcare, paid leave, and living wages can't wait!
Celebrate DACA's Anniversary with a Pathway to Citizenship!
The fight for racial justice must extend to immigration policy as Black immigrants are acutely targeted within the immigration system. Black immigrants are more likely, than the rest of the immigrant population as a whole, to be detained for criminal convictions. And as such they're more likely to be deported. That's why it's so important to protect Black immigrants and enforce permanent solutions like a pathway to citizenship. Right now, Congress has the opportunity to include in the next infrastructure and recovery package a pathway to citizenship for DACA recipients, essential workers and TPS holders. We must call on Congress to stop the political roller coasters and give our immigrant community the support and stability they need.
Tell Congress we need a roadmap to citizenship for DACA recipients, essential workers, and TPS holders in the next infrastructure & recovery package!
Support Black Mamas!
Join MomsRising in celebrating Juneteenth by asking your member of Congress to support the Black Maternal Health Momnibus! Every person giving birth deserves a safe and healthy experience and should have the opportunity to watch their child grow up and thrive. Every child should have a chance to have their mother by their side.
Click here to call on your member of Congress to support the Black Maternal Health Momnibus!
Together we can END the criminalization of kids in schools. Tell Congress to pass the Counseling Not Criminalization Act!
We ALL want schools to be safe but we also must be clear that there is no evidence that increasing the number of police in schools actually improves school safety. Instead it disproportionately harms Black, brown. LGBTQ, and students with disabilities and takes critical resources from what actually keeps schools safe and helps ALL kids thrive. The Counseling Not Criminalization Act is an important step in shifting resources away from practices that harm and push kids out of school into what helps students thrive, keeps schools safe, and ends the criminalization of kids in schools.
Tell Congress to Support the Counselors Not Criminalization Act!
Tell Congress: Pass the For the People Act!
There have been far too many assaults on our democracy in recent years and communities of color have never had the political power that comes close to equal representation. For example, there are only 10 members of color in the U.S. Senate while people of color make up 40 percent of the population. Intentional voter suppression of communities of color, unnecessary barriers to voting, and gerrymandering is locking too many people out of our political process—and big money and corporate interests are dominating our political system. The For the People Act pulls together a bold package of policies that empower Black and brown communities to combat voter suppression bills being enacted across the country, decrease big-monied interests in our policy process, and balance out skewed representation that silences communities of color.
Quick signature: Urge your members of Congress to give power back to the people by passing the For the People Act!