A single day won't be enough.
Chocolates, flowers, pink cards with massive glitter, and safe communities are on our minds this Valentine's Day.  What? Safe communities? This Valentine's Day, as we think of our own loved ones, we can't help but also think of the families who are missing people due to gun violence--and about the importance of making our communities safer for everyone.
To be blunt: Families can't wait any longer for common-sense gun laws, and that's why we're counting on you.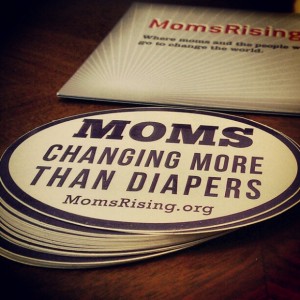 We're almost halfway to our our goal of $20,000 to continue to bring forward the voices of real people for common-sense solutions to keep our families safe.
Help get us across the finish line!  Pitch in today:
https://action.momsrising.org/donate/Stop_Gun_Lobby/
*Each donation, no matter how big or how small, gets us one step closer to our goal and together we are a powerful force!
What will your donation fuel?
With our powerful voices and creativity, we can be more effective than the National Rifle Association (NRA) and its army of lobbyists for the gun industry.
Take for example, our "Have a Heart, Save Lives" event that's happening at the Capitol right now on Valentine's Day.  Moms, dads and a choir of kids (really! a choir!) are descending on Capitol Hill today to deliver thousands of unique, heartfelt valentines directly to our leaders. Each of the valentines highlight that moms and families overwhelmingly want to see common-sense gun regulations and an end to gun violence. Your message will be heard loud and clear by our leaders with song and paper valentines (that's much more powerful than any pin striped suit)!
But this single day of action won't be enough – we'll have to deliver this message again and again in the days ahead in order to break through the wall of noise erected by the NRA.
We need to unite our voices behind as big a microphone as we can, again and again in super creative ways, until we win. That's why we must meet our goal of $20,000.
Together, we can make sure our elected decision-makers hear from real moms and families, not just from very well-funded lobbyists.
As moms and kids walk the halls of Congress today, chip in and help make sure that our message lives on beyond Valentine's Day!
https://action.momsrising.org/donate/Stop_Gun_Lobby/
We can't be silent. Together we can make sure that Congress hears from moms and families to help our country take real steps in reducing gun violence.
Together we are a powerful voice!
P.S. Check out this post for images from our exciting and powerful "Have a Heart, Save Lives" event!