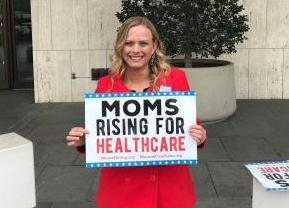 A Reminder on the 10th Anniversary of the ACA: Progress is Possible
Remarks from Felicia Burnett during a teletownhall in North Carolina on Monday, March 23, 2020.
On the 10th anniversary of the Affordable Care Act, we pause from the disheartening and discouraging news about coronavirus to remind ourselves that progress is possible. That's a message of hope we all need to remember right now. Progress is possible. And we can make a difference. The ACA is proof of that. That law has dramatically improved health care in America, for millions of moms, kids, and families.
Because of the ACA, more than 20 million more people in this country have health insurance. Half a million of them are right here, in North Carolina. Insurers can no longer deny or take away your coverage because you have a pre-existing condition. That has made all the difference for me, personally, as someone with chronic kidney disease, and for my son who underwent chemotherapy as an infant.
Because of the ACA, insurers can no longer charge women more than men for the same plans. Consumer protections now prevent insurance plans from imposing annual or lifetime caps that mean we lose our coverage just when we need it most.
Because of the ACA, 10 essential health benefits are covered. They include preventive care, birth control, prescription drugs, mental health care, and maternity care. 2.3 million adult children have been able to stay on their parents' insurance until age 26. Nine million people got the financial assistance they needed to purchase health coverage in the marketplace.
The ACA was a huge victory that has made our country stronger and healthier. We would be in so much more trouble right now, with the coronavirus hitting, if the ACA hadn't been law for the last decade.
But the ACA's future is in jeopardy, because opponents have never stopped attacking it. So we have to continue to defend it, day after day, month after month. We have to continue demanding that our leaders here in North Carolina expand Medicaid, so many more low-income people will have health coverage and care.
The U.S. Supreme Court will hear a case in the next few months that puts the ACA, and with it our coverage, at risk. The Trump administration is siding with Texas and a group of Republican-led states in asking the Court to overturn the law. If they have their way, the courts will do what President Trump and the U.S. Senate could not: Overturn the Affordable Care Act, threatening protections for the more than 130 million people living with pre-existing conditions. People like me … many of you … and moms all across this country.
If they prevail, there will be even more chaos in our health care system. Our country will suffer, even more than we are suffering now.
We have seen during these last few weeks how little this President and this administration understand our health care needs, our health care system, the realities of our lives. They couldn't manage to get tests to those who got sick first in Washington state. They can't manage to get masks and respirators to the health care providers who are on the front lines. They can't manage to be straight with the people of this country about the prospects and timeframe for new treatments and a vaccine.
It was Speaker Pelosi and House leaders who insisted that insurance cover coronavirus testing. It is governors and mayors who are getting our health care institutions stocked and ready for the growing influx of coronavirus patients.
We need President Trump and his administration to tell the truth. Just yesterday, President Trump said he was doing a better job of implementing the ACA than the previous administration. He said he will always protect people with pre-existing conditions. Don't believe a word of it. His administration has been working to undermine and sabotage the law from day one, and impose barriers that prevent people from getting coverage, time and again. If he has his way, he'll leave people like me and my son, who have pre-existing conditions, to fend for ourselves.
What's more, in the wake of this pandemic, the Trump administration and Health and Human Services Secretary, Alex Azar have refused to promise American families an affordable coronavirus vaccine, and Big Pharma is already profiteering off this public health crisis, despite massive taxpayer investments in research and development.
I know you agree that every mom and every family deserves access to affordable, high quality health coverage and care. That's a fundamental human right and it's essential to our success as a country. We see that, now more than ever, as we face this pandemic. We must protect the Affordable Care Act. 
This is a fight for our lives. It's one we have to win.
Remember, progress is possible. If we mobilize, fight back, defend our victories, and demand further progress, we will prevail.