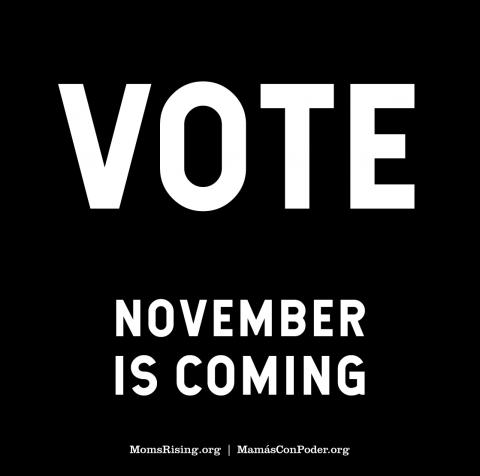 A Plan To Channel Our Rage & Our Power: Get Out the #VOTE! You in?
What's happening in Washington, D.C. is horrifying, but one truth is shining through: Together we are the loud, visible, and urgently necessary force our nation needs right now. The future is ours. 
We've. Got. Each Other.
And we've got to keep pushing forward together. Channel your rage, your heartbreak, your strength, your vision for the future into making our nation a place where everyone can truly thrive by getting out the vote.  The situation is urgent.  Our nation has low voter turnout overall, so we can shape our Congress, our policies, and our culture through increasing the sheer number of people who turn out to vote.  With the November 6th election just around the corner, the time is now.  And we need you.
 *MAKE CALLS TO HELP GET OUT THE VOTE:  Sign up to make phone calls to moms in key areas who especially need reminders to vote: https://action.momsrising.org/survey/GOTV_phonecalls_2018/
We need you. We need your help. We quite literally need your voice. After you click through the above link, we'll be able to send you everything you need, including: An easy way to make lots of phone calls where you don't even have to dial each number, a short sample script of what to say, the timeline in which your phone calls need to happen (last two weeks in October and first week of November), and more. If each of us make 20 calls that all adds up to real change.
 *SEND POSTCARDS TO GET OUT THE VOTE: Sign on and we'll send you 5 pre-addressed, pre-stamped postcards to women who are infrequent voters! Just write a quick note and drop them in the mail. This is a FREE way to help increase the number of women voters casting a ballot on November 6th and make a big difference in the election: https://action.momsrising.org/signup/GOTV_postcard_2018/
 *HOLD A GET OUT THE VOTE PARTY: Bring some friends together to create lasting change by making an impact in the upcoming elections. Help us remind women in key areas to be voters on (or before) November 6th with your phone, your pen, your voice, your social media, and more. Sign up to get information about how to bring your friends together to make an impact in the upcoming elections here: https://action.momsrising.org/survey/GOTV_houseparties_signup/
Never forget that we together hold the hopes, the dreams, the rage, the joy, the will, and the strength to build a nation that works for all of us.  Women are half our population, and we brought the other half into the world.
We can make the future OURS.