A New Film About Oscar Grant Opens This Weekend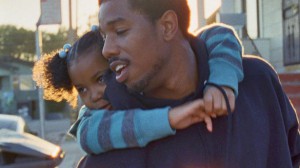 This Friday, an incredible film opens in theaters. Fruitvale Station follows the true story of Oscar Grant (played by Michael B. Jordan), a 22-year-old Bay Area resident who was unjustly killed by a police officer on New Year's Day 2009. The film's director wanted to tell the story through the eyes of the people that knew him best. And the most important people in his life were women - his girlfriend, his mom, and his young daughter.
Ryan Coogler is a 26 year-old filmmaker from the East Bay Area, California who has been making movies for five years. His feature length screenplay FRUITVALE, based on the 2009 BART police shooting of Oscar Grant, was selected for the 2012 Sundance January Screenwriter's Lab. In 2011 his student short film FIG, which followed a young street prostitute's fight to keep her daughter safe, won the Director's Guild of America Student Filmmaker Award, as well as the 2011 HBO Short Filmmaker Award. FIG was broadcast on HBO. Coogler still lives in the Bay Area where in addition to making films, he works as a counselor at Juvenile Hall in San Francisco. He earned his MFA in Film and Television Production at the University of Southern California in May 2011.
We had an opportunity to talk to director Ryan Coogler about his hope that audiences can empathize with the characters and recognize their common humanity with those who are different.
Q: The characters of the people who loved Oscar are just as powerful as Michael P. Jordan's portrayal of him. And I think anyone who sees it can relate to someone in the film. What was your process for developing those characters?
Thank you. That means a lot to me that people can relate to the characters. When I started writing the script, I based it off the documentary and the court transcript, and personally talked to his family and best friends. Lot's of talking. I live in the Bay Area too, so I know the people here. I also took Michael (P. Jordan) to meet everyone of his (Oscar's) family. I also interviewed them on a record then send the tapes to the actors. I spent a lot of time with Oscar's mom and Octavia (Spencer) really paid close attention to those tapes.
Q: Can you talk a bit about how you decided to end the film?
A: . I wanted to tell Oscar's story through the eyes of the people that knew him best, from their perspective. The most important people in his life were the women. His girlfriend, mom, daughter. Throughout his story his mom represented his past, Sophia was his present, Tatiana was his future and he barely got to know her. And those are the most important parts of his life.
When he was shot, his first words were "I have a daughter." I wanted to end the film with the person who was impacted by it the most – Tatiana. And when I spoke with Sophina, she said she broke the news to her daughter in the shower. Water was a comfort for them.
Q: How does Oscar's family, particularly his mom, feel about the film?
Sophina doesn't want too see the scene where he is shot. As you can imagine, that's incredibly personal for her. Oscar's uncles and mom have seen the film. It was tough but they watched it.
Q: Our audience is primarily moms. Why do you think it's important fro them to see Fruitvale?
I think they will relate to Sophina's character the most. Not everyone has lost a son, even if they can empathize. But all moms have had a young child that they've had to break bad news too. Something that affects their future. And I think moms will empathize with Sophina's struggle at the end of the film.
Q: Why was it important to make Fruitvale?
All I can ask for is that it makes people think. And that people can empathize with the characters. I think empathy can lead to so much. That's all we can ask for as artists and storytellers. That audiences can see something of themselves in the characters, develop empathy and link that to something in their personal life and grow from there. I also hope that through this film, they can link their experience to someone outside their life. I want it to encourage discussion, and help people see their common humanity with others who are different from there.
http://www.youtube.com/watch?v=CxUG-FjefDk
In Theaters Friday July 12th
Official Synopsis: FRUITVALE STATION follows the true story of Oscar Grant (Michael B. Jordan), a 22-year-old Bay Area resident who wakes up on the morning of December 31, 2008 and feels something in the air. Not sure what it is, he takes it as a sign to get a head start on his resolutions: being a better son to his mother (Octavia Spencer), whose birthday falls on New Year's Eve, being a better partner to his girlfriend Sophina (Melonie Diaz), who he hasn't been completely honest with as of late, and being a better father to Tatiana (Ariana Neal), their beautiful four year-old daughter. Crossing paths with friends, family, and strangers, Oscar starts out well, but as the day goes on, he realizes that change is not going to come easily. His resolve takes a tragic turn, however, when BART officers shoot him in cold blood at the Fruitvale subway stop on New Year's Day. Oscar's life and tragic death would shake the Bay Area – and the entire nation – to its very core.