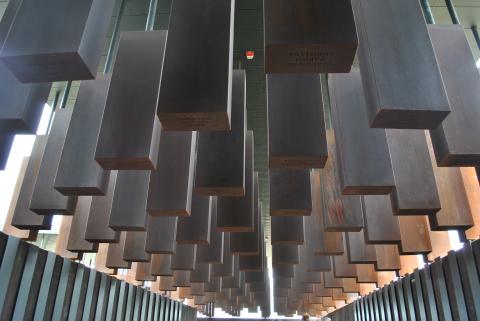 A Mother's Day reflection on the legacy of lynching
As Mother's Day approaches, I've found myself reflecting on the trip I took last month to the National Memorial for Peace and Justice and the Legacy Museum in Montgomery, Alabama – both brainchildren of the brilliant civil rights attorney, Bryan Stevenson, the founder and executive director of the Equal Justice Initiative (EJI). Bryan is also a friend and mentor, whose wisdom has been a guiding light for me during my time as executive director at the Campaign for the Fair Sentencing of Youth (CFSY).
One of Bryan's goals in creating these historical landmarks was to force us to confront our cruel, racist history and recognize its direct connection to racial violence today, especially police killings and mass incarceration. He rightly believes that we cannot move beyond that history to a place of reconciliation and healing until we put our current struggles in the context of our past. I was fortunate enough to be present for the historic opening of these must-see American landmarks, which was meaningful to me as a justice reform advocate, but also, I learned, as a mother of three young children.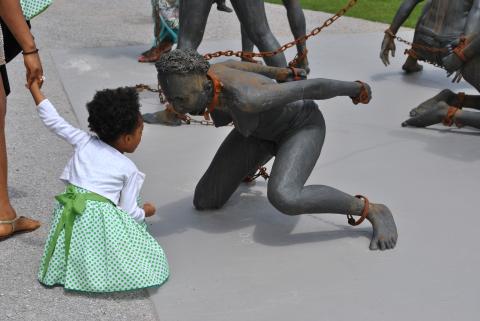 Lian Noel-Howard holds the hand of her mother, Jaleesa Capri. Photo by Jody Kent Lavy.
I began my visit at the memorial, where upon entering, I saw on statues the shocking, emotional faces of black men, women, and children in shackles, fearful, pleading for their lives. I stood there as a small, beautiful black girl – maybe 4 years-old – knelt next to a statue of a woman who appeared to be screaming for help, looked up at her mother and asked, "Mama, is she hungry?" Her innocent question immediately evoked the senseless horror, cruelty, and pain experienced by this little girl's ancestors simply because of the color of their skin. Her mother nodded and said yes, perhaps unsure whether to explain to her daughter the brutal victimization and humiliation these people, who looked like them, had endured.
In that moment, I saw the intersection of this mother's struggle with that of black mothers who had come before her. I thought of all the parents having "the talk" with their black and brown children because they are not afforded the right to a carefree childhood. Instead, they must fear being shot by police, arrested at school, or immediately judged as older and more culpable because of the color of their skin. I pondered how for centuries, black mothers have had to balance the joys of parenthood with the gut-wrenching fear that racism will hurt their children – emotionally, economically, academically, and physically.
I slowly walked through the memorial among the columns that bear the names of lynching victims by county, noting that on so many of them the print was small and crowded. I noticed lynching dates in the 1930s and 1940s, during my parents' lifetime. I tried to imagine my grandparents hearing about these cruel acts of violence against men, women, and children, and wondered how they'd reacted. I'd like to think they would have been horrified, but these acts were normalized, and even celebrated, at the time.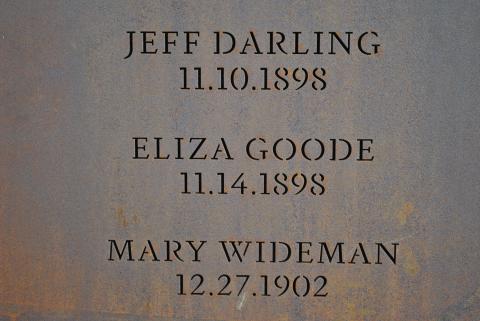 Photo by Jody Kent Lavy.
I was struck to see the name "Eliza" on the columns at least three or four times. It was striking to me not just because most names of victims listed were men, but because "Eliza" is the name of my youngest daughter. I felt weight in my chest, and overwhelming sadness to think about mothers losing their children to this barbaric form of social control. It made me think of the mothers of Kalief Browder, Tanisha Anderson, Eric Garner, Meagan Hockaday, Michael Brown, and the thousands of mothers whose children were sentenced to die in prison, and in thinking of them I was moved to turn to the small girl and her mother and apologize. I told her through my tears, mother to mother, how deeply sorry I was for the vicious and inhumane ways we white folks – to this very day -- have treated our black fellow citizens.
I continued walking, now with the columns dramatically hanging above me, and looked up to read the name "Henry Montgomery" printed at the top of one. I immediately thought about another Henry Montgomery, the prisoner whose case was decided by the United States Supreme Court in 2016, and made retroactive the Court's previous ruling that banned life-without-parole sentences for most children. Over two years after the Court's decision in his case and over 55 years since he was first incarcerated, Mr. Montgomery is still languishing in Angola. As a black teenager accused of killing a white police officer in the American South of the 1960s, he never had the chance for a fair trial, nor was he given a fair parole hearing earlier this year. Like the Henry Montgomery whose name I saw engraved at the memorial, he has paid the price of being black with his life.
Leaving the memorial, I was overwhelmed by the horror, and the sheer volume, of people victimized by lynching, and deeply disturbed by how my experience there brought to mind so many stark examples of how our society continues to dehumanize, humiliate, punish, and even kill people of color today – how many mothers will see Sunday's festivities come and go without their children. The Legacy museum thoughtfully and compellingly reinforced that direct line between our racist past, beginning with slavery, to our racist present, highlighting the impact of mass incarceration on communities of color. But it was there that I was also brought hope.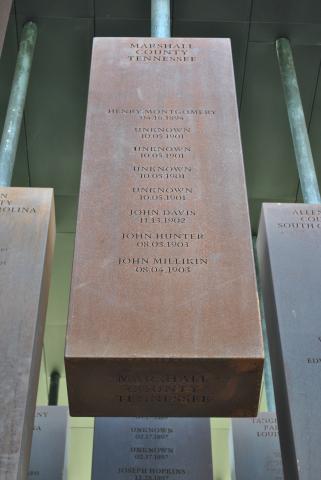 Photo by Jody Kent Lavy.
In the museum, letters and stories of children sentenced to die in prison were prominently displayed. They were people whose names and stories I knew, and some of them have been released, thanks to the work of EJI, the CFSY, and our partners across the country -- on that trip alone, I encountered a half dozen people told as children they would die in prison, who are now free. This reflects the tremendous progress we've seen in recent years. Just in the last six years the number of states that ban life-without-parole sentences for children has quadrupled. And there is no question this momentum would not have been possible were it not for the courageous mothers of those condemned to die in prison as children, many of whom have been tireless advocates for their children, and the abolition of this barbaric practice, for decades. It is they who demanded this issue be taken up by advocates, and that is how this movement got its start.
I left Montgomery armed with the knowledge of where we've been, and how that history must inform our path forward. I left thinking about the impacts of structural racism and racial violence on our society, on families, and especially on mothers. This Mother's Day, I am particularly mindful of these mothers-- black mothers-- who have seen their children torn away from them, tortured and hung from tree branches in the town square, or dragged out of a courtroom and sent to prison to die. It is my hope that people-- especially white folks-- will dare to accept Bryan's invitation to grapple with our past, and in so doing, recognize and honor the sacrifice, courage, and power of these mothers. We must stand with them and demand, "never again."