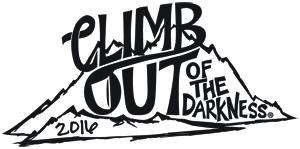 A Journey Out of the Darkness: Climb Out of the Darkness 2016
It is not often that you hear about the darkness that can accompany becoming a mom. Nine years ago I learned that the motherhood experience can contain more than nursery colors, cocoa butter for fading stretch marks, and breastfeeding. My son was six months old and not sleeping through the night. There was a continual malaise of body aches, extremely low mood, tearfulness, and even some panic. I reasoned my experience away. "You are just adjusting to motherhood, Jasmine. This is no big deal. You can handle this." His cry unnerved me and touching him resulted in me wanting to crawl out of skin. It was all I could manage to continue breastfeeding him daily. I didn't tell anyone about my ever growing resentment. Parts of me hated him and wanted him to disappear. Other parts of me loved him and was deeply grieved that I seemed to be failing at bonding with him.
In the coming weeks, alone with my son, I swatted away spiders that I thought were crawling all over him. I paused and looked at my wailing infant and realized there had never been a single spider. I placed him safely in his crib and called my partner. My partner and I sought immediate help. After an evaluation from my psychiatrist I was informed I was experiencing Postpartum Psychosis.
Postpartum Psychosis is a rare a very serious perinatal mood and anxiety disorder. Women with postpartum psychosis, the most serious of all perinatal mood and anxiety disorders, may have delusions, hallucinations, paranoia or mania. I was treated with medication and family support. I looked for resources, support, or stories of women who had experienced what I was going through.  After a brief online search I stumbled upon PostpartumProgrss.org  I found women bravely telling their stories and climbing out of that darkness. I found a space where I had zero shame about being a mom suffering through a mental illness.

Founder, Katherine Stone, created Climb Out of the Darkness® to help shine a light on those who suffer alone and in the dark with maternal mental illnesses. 
After spending time participating in the community, Postpartum Progress hired me to be the Program Manager for Climb Out of the Darkness®.  9 years after that really awful realization that I was very sick, I am healthy and well and helping other women find the power to tell their stories. This year in almost all 50 states, the United Kingdom, Israel, Brazil, Germany, and Canada women are saying it is time to #climbout. To learn more about the work and advocacy that is happening with Postpartum Progress take a look at our Climb Out of the Darkness® page. Feel free to email me with questions as well climbout@postpartumprogress.org
This year we are celebrating women who are amazing mother and refuse to allow stigma define our journeys. Check out our celebration video, HERE.