A Head on Desk Moment: A MomsRising Blog Carnival on Equal Pay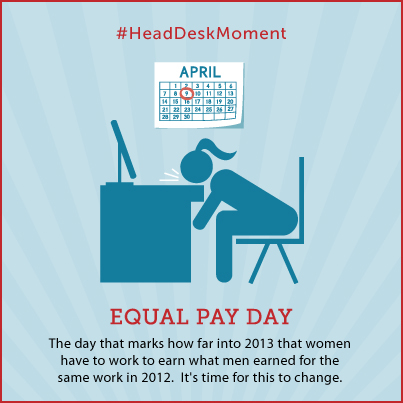 I'm having a 
head/desk
 day. You know the kind; where you just want to bang your head on your desk because you're so frustrated. Why? Because today is 
Equal Pay Day 
– the day that marks how far into 2013 women have to work to earn what men earned for the same work in 2012. And at the rate we're going, left alone, the wage gap won't close until 2057 -- that's 45 years from now (my head and desk can't take that many more head desk days).
It's time for this to change, and MOMentum is on our side. President Obama addressed the need for fair pay policies in both his 
inauguration speech
 and at the 
Stateof the Union
, and last month the U.S. Senate took a baby step forward by 
creating a reserve fund
 for Congress to pass the Paycheck Fairness Act without adding to the national deficit.
Baby steps are great. But now is the time for big strides forward for fair pay. What can we do together to make sure that our daughters and granddaughters won't fight this same tired battle?
Click here
to implore Congress and our leaders to pass the Paycheck Fairness Act and also move forward with Executive Action to address pay disparities.
Also, be sure to take time today to check out the powerful posts from MomsRising bloggers and partners below about the importance of closing the wage gap -- for our families, and our national economy. Leave a comment or two and share the blogs with your family and friends on Facebook, Twitter and e-mail. Together there isn't anything that we can't achieve. Thank you!
Ann Garcia and Patrick Oakford, Center for American Progress
Unequal Pay Day for Immigrant Women
Elisa Batista, MomsRising.org
What Would I Do With An Extra 11 Grand a Year?
Claire Moshenberg, MomsRising.org
What year is this anyway?
AnnMarie Duchon
I am not worth less.
MomsRising.org
Story book for fair pay stories
Brandi Trapp
I worked in a restaurant as a server earning $2.62 and could not afford to eat.
Elisa Batista, MomsRising.org
$2.13 no compra ni un galón de leche
Ruth Martin, MomsRising.org
It's Time For This Madness to End
 Nanette Fondas, MomsRising Member
Equal at Birth But Not At Work
Angélique Roché , Black Girl Nerds Blog
Equal Pay Day: What we are not discussing...