A Family Remains Torn Apart This Mother's Day
Jennifer Martinez will not be celebrating this Mother's Day because her family remains torn apart. Here is Jennifer's story: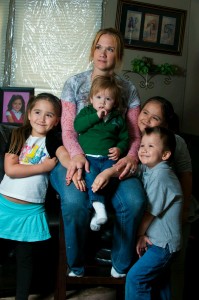 Jennifer Martinez and family
"A little over a year, my family was ripped apart when my husband of 16 years was suddenly taken away and forced to leave the country. My husband went to work one morning, as always, but he didn't come home. Was he safe? When would we see him again? Me and my four children were left alone and scared, with no answers.
On March 21, 2012, my husband was told he had 20 minutes to get his things and was taken from our hometown of Manitowoc, Wisconsin to Chicago. After I finally heard from him, I had to scramble to get our kids ready and make the long trip to Illinois. When we got there, we couldn't find him for 24 hours. When we finally found him, I barely had enough time to hand him some money and bag of clothes before we were forced to leave. I'll never forget the image of my children throwing rocks and chasing the bus that was taking their father away.
Now I work three jobs just to keep our family afloat; one job to pay our bills, another for childcare and a third to send to my husband in Mexico, who only makes $27 a week. So now, not only are my kids separated from their dad, but they hardly see their mom because I have to work all the time. It's a struggle everyday to keep it together and put on a brave face for them. My heart breaks a little more every time they ask when dad is coming home and I don't have an answer.
My husband was a contributing member of our community. He had a steady job for years and paid taxes. He had no criminal record – not even a traffic violation.
Why is the U.S. government criminalizing innocent people and tearing families apart? This nation is founded on family unity, and our broken immigration system is not upholding those values. Every year, 46,000 mothers and fathers are taken away from their children with little hope of reuniting. Thousands of children with loving, devoted parents are forced into foster homes and welfare systems that put a strain on our communities. And for what?
Our broken immigration system is hurting U.S. citizens, like me and my kids. Before March 21, 2012, we were an average American family. Now my husband is gone, and a huge void remains. I pray that he will one day be allowed to come home.
This is why I am fighting for Congress to pass a comprehensive immigration reform bill that includes a clear and direct path to citizenship. Not just for immigrants, but for U.S. citizens. I hope that you will watch this short video help share my story. Please, help me bring my family back together."
WATCH Jennifer tell her story here:
Jennifer Martinez's Story from FIRM on Vimeo.