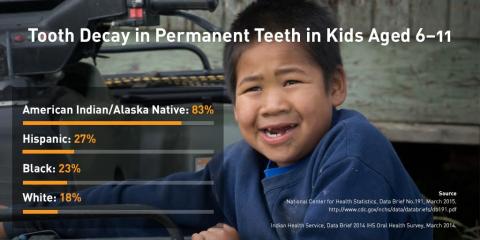 A Desperate Need for Dental Care: Learn About Dental Therapy
The two little girls who opened their mouths for me were only 4 and 5 years old, yet they clearly had a history of severe dental problems. In my dental practice in Colorado this would be pretty shocking but thanks to Indian Country's horribly insufficient dental care system it's all too common here.
Luckily for these little ones, their father, a war veteran, fought his way through our broken dental care system to get dental care through Medicaid, found a dentist who would treat them and then drove multiple 140-mile round trips to that dentist to get his daughters' teeth restored.
Unfortunately, he didn't have anyone to fight for him when the Indian Health Service dental clinic and the VA clinic repeatedly turned him away.  When I finally examined his mouth, I found active infections and multiple missing teeth. He was clearly in pain. And those infections increase his risk of getting dangerously ill.
In my practice in Boulder, this would have been a medical emergency. But in Indian Country, it's just what people have come to expect.
And, as far as I'm concerned, it's unconscionable.
As a dentist, and as member of the Cherokee Nation, I am tired of seeing Native Americans across this country suffer from what can only be described as an epidemic. The state of oral health care in Indian Country is deplorable and access to care for many people is a pipe dream.  We must take action.
A Desperate Need for Dental Care
Located in the rural plains of South Dakota, the Pine Ridge Indian Reservation, where my patient and his daughters lived, is emblematic of the devastation caused by poor oral health in Indian Country and the desperate need for dental care. I lived on the reservation years ago and have travelled there many times over the years to assess residents' dental needs as part of my academic research. Things have not gotten better since the 1980s, in fact, they have gotten worse—a study we did found 84 percent of children and 97 percent of adults have untreated cavities.
The dental care system in Pine Ridge and, frankly, most of Indian Country, isn't working. There are not enough providers to meet the need. Pine Ridge has just ten dentists to provide care for more than 30,000 people living in an area roughly the size of Connecticut.
Across Indian Country, you find the same story. More than 50,000 preschool children served by the Indian Health Service (IHS), the federal agency that provides health and dental care to more than half of Indian Country, need dental treatment. About 8,400 of them may be in pain or have a life-threatening infection.
Despite intense recruitment efforts, including significant financial incentives, IHS and the tribes are unable to attract enough dentists.  
Even if they could fill every available slot, it still wouldn't be enough to treat the enormous amount of disease in Indian Country. Dentists alone can't solve Indian Country's oral health problems.
Dental therapists can help
A little more than a decade ago, tribal leaders in Alaska, fed up with rampant untreated tooth decay, implemented a program from New Zealand called dental therapy. They recruited young people from Native villages and, in two years, trained them to work as part of the dental team providing basic dental care. Today, these providers, often called dental therapists, are in large part the reason why more than 45,000 Alaska Natives across 81 villages can get dental care in a way they never have before.
Dental therapists are dental providers who work with dentists like nurse practitioners and physician assistants work with doctors. They provide routine care and preventive services, freeing up dentists to do the most complex procedures that only they can perform and allowing more patients to be seen.
I watched dental therapists in action in Alaska, and as a dentist of more than 30 years, I was astounded.
Their care was technically sound. They educated their patients about proper brushing and diet, and, within their scope of practice, provided treatment at a quality that was equal to, and in some cases, better than that of dentists.
And just as important, their care was culturally sensitive. They knew their patients. They knew the foods they ate, the communities and families they came from, and their fears and history with dental visits.
They tend to be recruited by their home communities. After completing their education, they return to practice in those same communities, an added benefit for tribes with few dentists.
Momentum is building
Dental therapists are now authorized to practice in Minnesota and Maine. More than a dozen other states are exploring this model as a way to improve access in their communities.
Others in Indian Country are following Alaska's example. In January 2016, the Swinomish Tribe of Washington state stood up to the highly funded opposition from organized dentistry and announced that it was hiring a dental therapist to work in the clinic.
More recently, in Oregon, the Coquille Tribe and the Confederated Tribes of Coos, Lower Umpqua, and Siuslaw Indians received state approval for a pilot project that will add dental therapists to their dental teams.
Diverse organizations from Americans For Progress and Grover Norquist to philanthropic organizations such as the W.K. Kellogg Foundation and the Pew Charitable Trusts – support adding dental therapists to the dental team.
The profession of dental therapy, brought to the United States by Alaska's tribal leaders, is making its mark and many people stand to benefit.  Because in a world where dental therapists are actively practicing in Indian Country, the family I met that day on Pine Ridge would have an entirely different experience. Dental care would be accessible, closer to home, and provided by someone from their community. They could have received care when their problems were minor, avoiding the pain and inconvenience of complex care.
Now is the time. I hope all Tribes will join the movement and make accessible dental care a reality for their people.