Take Action!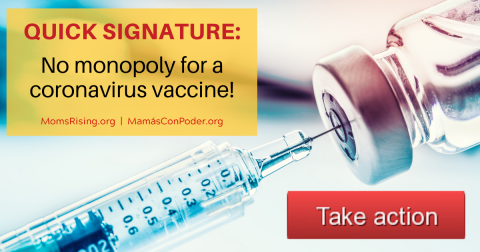 A coronavirus vaccine should save lives, not boost profits.
Every year, I make sure that my son and I get our flu shot as soon as it comes out. With a low-immune system due to chronic kidney disease, the flu can be devastating for me; and I am so grateful for the scientists across the world—and all the taxpayer dollars—that go into creating the flu vaccine to help keep my family healthy.
With flu season still in full swing—and an estimated 10,000 deaths in the U.S. so far this season (seriously, get your flu shot)—news of the new coronavirus outbreak is also causing concern. Reports indicating a possibility of a future pandemic make it clear that we need a strong response from our elected officials. Public, taxpayer dollars have funded the way in developing treatments and vaccines for the coronavirus, but, President Trump and Health and Human Services Secretary Azar are considering giving pharmaceutical corporations monopolies to sell them at whatever price maximizes profits.
Now is the time to speak up!
Quick signature: Tell President Trump and Secretary Azar NOT to give an exclusive license (monopoly power) to any pharmaceutical corporation to make a coronavirus vaccine or treatment!
This is not ok! We've seen what happens when big pharma corporations have monopoly power to set prices for pharmaceuticals. (Think of paying $600 for insulin in the U.S. that in Germany costs only $11.)
The current urgent need for an affordable coronavirus vaccine is just the latest example of why we need to rein in the power of Big Pharma. The National Institutes of Health—which is a part of the U.S. Department of Health and Human Services—have already invested nearly $700 million of taxpayer money in coronavirus vaccine research. Now, large pharmaceutical corporations are lining up to take credit and cash in on this crisis.
But research and investment in treatments and vaccines funded with public dollars should not be handed over to private corporations with no guardrails so they can price gouge patients and rake in profits. We must ensure that publicly funded research and development not only serves urgent public health needs, but also ensures that once medicines and treatments are created, they are affordable and accessible to the public who paid to help create them.
Sign now! No exclusive licenses (monopoly power) to pharmaceutical corporations!
While having an affordable coronavirus vaccine would be a great first step in addressing this public health threat, there are many other important ways the Trump administration needs to change course to ensure our families' health.
Like what? When 34 million working people in the United States have no paid sick days; when the number of uninsured people has increased due to the Trump administration's sabotage of our health care, and when funding for global health security has been cut—our ability to contain and combat a global health pandemic like coronavirus is stymied.
Let's take the first step today! Tell President Trump and Secretary Azar that vaccines and treatments developed with U.S. taxpayer dollars should be affordable for the public - no monopoly control for coronavirus vaccines or treatments to any pharma corporation.
Sign our petition to President Trump, Secretary Azar of the Department of Health and Human Services, and Congress which reads:
As coronavirus disease 2019 (COVID-19) spreads closer to pandemic proportions, we need a strong response from the United States government in order to save lives.

 

Pharmaceutical corporations should not be allowed to profiteer off of a global health crisis, nor be allowed to overcharge for vaccines and treatments developed with taxpayer dollars. Given that our National Institutes of Health have spent nearly $700 million on coronavirus research and development, we ask that you NOT provide an exclusive license to any private manufacturer for a coronavirus vaccine or treatment which would result in expensive medicine and put precious lives at risk.

 

When the world is increasingly at risk for pandemics that threaten public health, and treatments must be developed quickly and made affordable and accessible to the public, no single company should have control over the development and pricing of a coronavirus vaccine. The health of America's families must take precedence over the profits of the pharmaceutical industry.