A Call for Schools to Teach the Whole Student
What do our children need to succeed in school? Sure, our kids need to learn arithmetic, to read and to write. But their success in school and in life will depend on other skills, such as problem solving, teamwork, and how to regulate their emotions. These skills are essential, yet  we often forget their importance.
Recently, the Aspen Institute National Commission on Social, Emotional, and Academic Development set out to ask parents all over the United States: What does it mean to build young people's social, emotional, and academic skills? What does this approach look like in schools? What is important for parents and families when considering children's learning and development?
I'm a member of the National Commission's Parent Advisory Panel, a group of 15 parents from all over the United States representing the diversity of our nation with one commonality: we all have children in public schools. I've joined parents from urban, suburban, and rural communities who have come together to discuss what it means to support students' social, emotional, and academic development.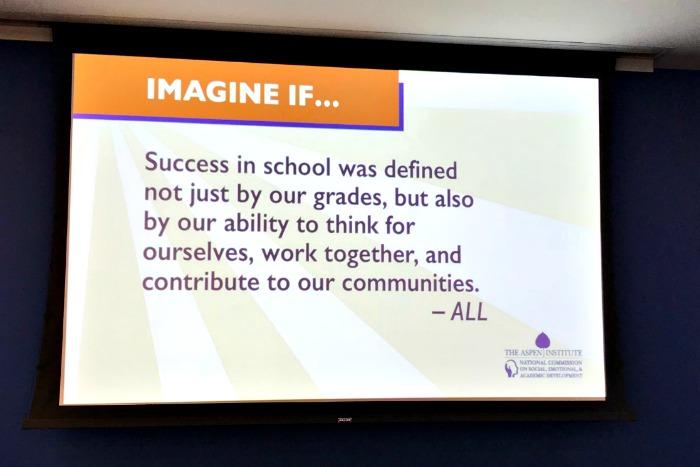 I'm particularly delighted to be part of this Panel because I have seen this work firsthand in my son's school. His school recognizes that not all children learn in the same way, and that in order for students to succeed academically, they must nurture the whole child. They encourage project-based learning that give kids opportunities to develop and practice skills like working with others, solving problems, and communicating. The school uses different type of furniture and classroom configurations so that children aren't confined to their seats all day. My son's teacher asks the children to meditate and breathe after they come back from gym class in order to get their minds calm and ready for learning. The school build in opportunities to  discuss topics like how to be kind to others. One of my favorite things is the morning meeting and talking bear. The children talk about how they are feeling when they have the bear. I love that there is a lot of communication with parents, and I feel like a partner in my son's education. I truly feel like my son's school strives to educate the whole child.
But it's not always easy for schools to approach learning and development in this way.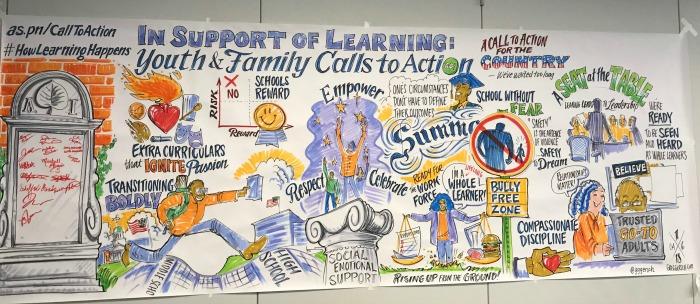 To help, my fellow Parent Panelists  and I have developed a Family Call to Action that outlines our vision for learning.
The Call to Action touches on the following important points:
We need our schools to know and teach the whole student
We need to be partners in our children's learning
We need to support adults who support children
We need schools to integrate social, emotional, and academic growth into the school culture and climate.
We need a whole community approach to our children's learning.
Our children spend most of their day in school. What they experience at home they bring to school with them, and vice versa. This is why it's so important that their schools are safe places where they can develop their social and emotional skills as well as their academic skills.
If you agree and believe that children should be educated in a holistic way, and that American public schools should support our children's' social, emotional, and academic development, we invite you to sign on to our Call to Action at As.pn/CalltoAction.
We are hoping parents and family members across the country join us by signaling their support for an approach to education that acknowledges our children as the unique, complex, and whole people that they are!
To learn more about the Call to Action, make sure to join this week's #EarlyEdChat on Thursday August 2nd at 2pm ET!