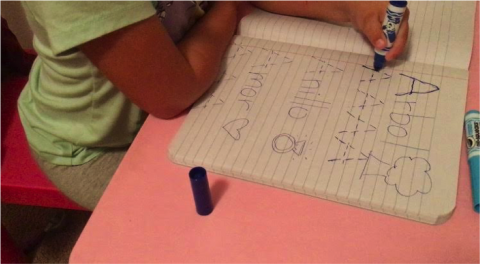 A Bilingual Mama living in a Monolingual Nation: My Journey Raising a Bilingual Child
*** Want more information on raising multilingual children? Visit MomsRising's bilingual parenting resource site: http://action.momsrising.org/survey/bilingual_baby/?source=blog
My husband and I consider ourselves to be bilingual and biliterate. As former dual language teacher, I always knew that we wanted to ensure that our daughter received the gift of language.
Given my background in bilingual education, I always over-analyzed our home environment, wanting to make sure that she was completely immersed in the language. We had a Spanish only rule in the house, but we quickly found ourselves in this natural code-switching mode. It's a world that my husband and I comfortably live in. The fluidity of both languages just couldn't give into my "Spanish only" rule.
We then tried a simultaneous dual language model at home, where mami would be the Spanish only speaker, and papi would be the English only model. However, once I went went back to work fulltime 18 months later, Spanish language acquisition became an issue again. While most of our family is also bilingual, my sisters and step-dad are not as fluent. Because of that, naturally, "awita's" (my daughter's way of saying abuelita) home was predominately an English only household. My mom helped me watch my daughter while I was at work and tried her best to speak the Spanish to her, but English always dominated. So, quickly I noticed my daughter picking up English as her vocabulary expanded. She was selective with language. Some words and phrases she said in Spanish, while others she preferred to say them in English. I found myself constantly saying "y en español se dice ____." The constant prompting and reminders were imperative yet exhausting. There were days that I simply wouldn't try, because it became overwhelming to push our native language in such a mono-linguistic nation that we live in.
I didn't want to give up, but I worried. I worried that I had failed my daughter. I worried that my little 2-year old wouldn't become bilingual and would reject the language that I love so much, and not reap the countless cognitive and social benefits of being bilingual! While I knew that we were all doing the best we could, I never felt that it was enough. What's a bilingual mama to do?!
Put her in Spanish Immersion preschool, of course! I've had the privilege of working a small language school in Redondo Beach, CA. when I was working on my undergraduate degree. I taught Spanish for after-school and summer programs. Years later, this little language school opened a Spanish Immersion preschool that prepares their students for dual language programs through play-based thematic units in the target language. I decided to put my daughter in their Transitional 2s program 2 times per week. The first few months were difficult and full of tears. However, as time passed, I saw my daughter grow in various areas, language is one of those areas. Let us fast-forward 3 years later, and now my little one is going on her 3rd year there. I opted for keeping her an extra year at her school instead of doing TK, because there are no dual language TK programs in our area. She is just turned 5 years old, and is now enrolled full time in school where she spends all of her day learning and playing predominately in Spanish. She knows her colors, numbers up to 30, shapes, initial sounds (oso, oso, o-o-o),  has an extensive tier 2 and tier 3 vocabulary bank, and can have short conversations in Spanish. Her listening domain in Spanish is through the roof. Most importantly, she has fun and enjoys going to school every day. While I find myself worrying about her next language milestone, which is getting accepted into a dual language program of choice; I am thankful that I have the support of her maestras and the director at Yak Academy. Not only has my daughter grown academically and socially, but she is excited to continue practicing her Spanish at home.
There were days that I wanted to call it quits. However, I kept pushing and I'm thankful that I did. I am passionate about multilingual and multicultural education, and will continue to push my daughter until she can read Don Quixote and write an analytical paper examining major themes of the novel. Ok, ok, maybe not that much, but you catch my drift.