76% of Food Service Workers Lack Access to Paid Sick Days
Hispanic Workers are the Least Likely to Have Access
New analysis by the Institute for Women's Policy Research (IWPR) finds that access to paid sick days is unequally distributed across the U.S. population, with substantial differences by race/ethnicity, occupation, earnings, and employment status. Analyzing the National Health Interview Survey, IWPR found that 61 percent of private sector employees had access to paid sick days in 2012, up from 57 percent in 2009; yet, 41 million workers still lack access.
Lack of paid sick days is especially common in certain jobs requiring frequent contact with the public, with important public health implications. Less than a quarter (24 percent) of employees in Food Preparation and Serving Related occupations, and less than  a third (31 percent) of workers in Personal Care and Service occupations have access to sick days with pay.
"Workers who have close contact with the public, such as home care aides and restaurant workers, rarely have access to paid sick days," said Barbara Gault, Vice President and Executive Director of IWPR. "Expanding access to this important benefit is in everyone's interest."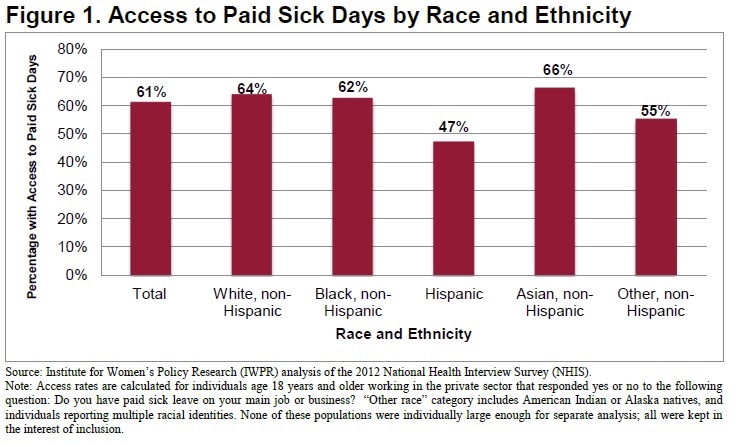 Hispanic workers are much less likely to have paid sick days than black, white, and Asian workers. Fewer than half  (47 percent) of Hispanic workers in the United States have access to paid sick days, compared with 64 percent of white workers, 62 percent of black workers, and 66 percent of Asian workers.
The economic and public health benefits of paid sick leave coverage are substantial, including safer work environments, improved work-life balance, reduced health care costs for workers,  reduced contagion, and lower turnover costs for employers.
In 2011, Connecticut became the first state to pass a state-wide paid sick days law. Currently, Washington, Vermont, Maryland, Oregon, New Jersey, California, and Illinois are among the states where legislators are weighing state-wide bills.  A number of U.S. cities have passed paid sick days laws, including New York City, Washington D.C., and San Francisco.
Jennifer Clark is the Communications Manager for the Institute for Women's Policy Research.