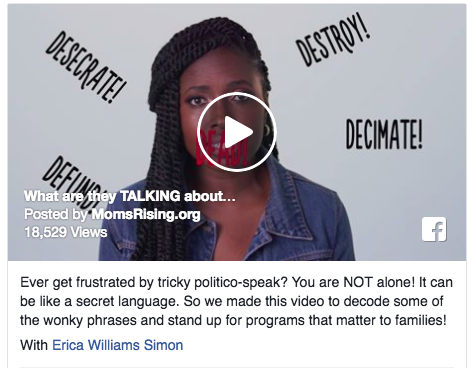 We're 100 days in to the new administration and we're not giving up!  In fact, we're powering up, rolling our sleeves up, and marching forward!
Here are your #5Actions for this week:
1. The very bad, no good healthcare bill is ba-aack!  And they might vote again soon. Tell Congress: Don't take our health care!
—> PHONE ACTION: 
*Make a quick phone call NOW to tell your lawmaker to vote "NO!" on the bad Trumpcare bill: 
1-888-668-8919
BACKGROUND: The terrible, horrible, no good, monstrous, and very bad Trumpcare/American Health Care Act (AHCA) is rearing its ugly head in the U.S. House again... and this time it's even worse!  Here's the lowdown: In March, the U.S. House pulled the damaging Trumpcare/AHCA from the floor after they couldn't build enough support to pass it because it gave billions in tax cuts to the wealthy while taking health care away from 24 million people, gutting Medicaid, and making coverage less affordable. Since then, Republican leadership has been trying to build consensus amongst the most extreme members of the party so they can bring the bad bill up for a vote again. Unfortunately, and unbelievably, to try to get support from the most extreme members of the Republican caucus, Republican leaders are making the bad bill worse.They now have a new additional very bad, no good, horrible idea of gutting protections for people with pre-existing conditions through the so-called MacArthur Amendment! Take action now, before it's too late!
2. In honor of this Mother's Day, send a message to President Trump and Congress: "Diversity is our country's strength, and Liberty and Justice are for EVERYONE!"
BACKGROUND: MomsRising will celebrate this Mother's Day by honoring the Statue of Liberty, who is also Mother of Exiles and of Liberty. We'll be delivering a message of liberty and justice, along with thousands of Statue of Liberty figures,* to President Trump, U.S. Attorney General Jeff Sessions, and to every member of the United States Senate—along with a letter signed by tens of thousands of moms, dads, and people who love them. The more voices on our message, the bigger the impact we'll have with elected leaders, with the media, and with the Oval Office. There is strength in numbers, so sign on now! 
3. Urge Congress To Stop a Fake Wolf-In-Sheep's-Clothing "Flex/Comp Time" Bill ASAP
—> PHONE ACTION: Dial 855-440-1800 to be connected to your U.S.  Representative's office and urge him or her to vote "NO!" on H.R. 1180! 
BACKGROUND: You've heard about fake news. How about fake names for bad legislation? Yup, that's happening too… but together we can stop it. A deceptively named, wolf-in-sheep's-clothing, "Working Families Flexibility Act" (H.R. 1180 / S. 801) was recently introduced in Congress and is headed for a vote very soon--and it's on us to make our voices heard to help stop it before it gets any momentum. This is a big deal because if passed, this bill would mean a pay cut for working people and less – not more – workplace flexibility! This bill is moving forward quickly and we need to act now to make sure our members of Congress know that working parents aren't fooled by this. Vote NO on H.R. 1180 / S. 801!  Don't forget to dial 855-440-1800 to tell your U.S.  Representative to vote "NO!" on H.R. 1180! 
4. Tell Congress: Protect moms, kids,  families, and our economy in the national budget!
—> ACTION: http://action.momsrising.org/sign/2018Budget/
BACKGROUND: Write your members of Congress now and tell them to protect children and families and the programs that support them in the federal budget!  We are helping you decode the budget wonkery that some of our leaders are using in hopes that you will tune out. We know better than that! Moms, dads, and concerned people around the country are speaking out about the programs that matter most to their families. Proposals, like block grants, are being considered that would cut investments that help vulnerable children and families. At the same time, President Trump and some members of Congress want to give major funding increases to fund harmful and expensive pet projects like his proposed border wall and give massive tax cuts to wealthy corporations and individuals. This will only lead to an increase in poverty, hunger, instability, and make our economy weaker. We need to speak out! We need to let our members of Congress know that we won't stand for this!
5. Speak out for high-quality, affordable childcare!
—> ACTION: http://action.momsrising.org/sign/Childcare/
BACKGROUND: A lot of lip service has been paid—both good ideas and not so good ideas—recently in terms of the childcare crisis many families find themselves in. Childcare played a major role in the 2016 election with candidates from both sides of the aisle proposing solutions on how to fix our childcare dilemma. In fact, a 2016 poll found that 90% of voters (both Republicans and Democrats) agree that our elected leaders should work together to make quality early childhood education, including childcare, more accessible and affordable to low- and middle-income families. This is why we are calling on the U.S. Congress to step up to the plate to pass policies that help our families afford childcare, increase access, and give our childcare professionals the boost they need! Key leaders in Congress are already starting to draft legislation on this issue, but we need to make sure it is the right type of legislation—not just a benefit for the wealthy few.  Join me and write your members of Congress NOW! Tell them to support high-quality, affordable childcare legislation: http://action.momsrising.org/sign/Childcare/
Thank you for all you do to make our nation stronger and a place where everyone can thrive! #KeepMarching!