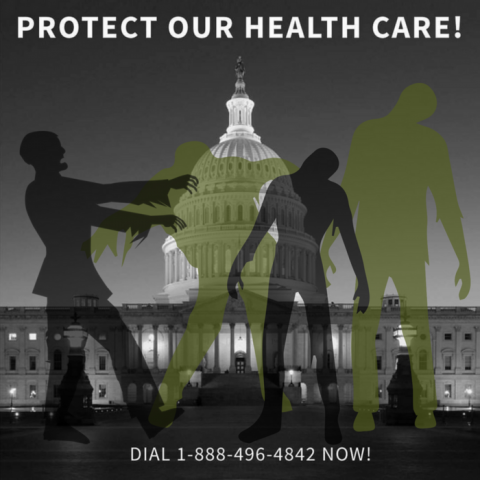 #5Actions of the Week: September 25, 2017
Almost there! We're gaining MOMentum protecting healthcare, but make no mistake: We haven't won yet. It's still go time for health care! We need everyone (including YOU!) to keep the pressure on. And we're making it super easy to do just that. Scroll down for easy ways to both call and write letters to your paper in support of health care. You'll also find timely and important actions around gun safety, tax reform, and Hispanic Heritage Month, below.
During times like these, we're looking at YOU, superheroes, to project our parent power! THANK YOU for all you do! 
1. Raise Your Voice! Tell U.S. Senators to work in a bipartisan way to strengthen, NOT repeal, the Affordable Care Act! Dial 1-888-496-4842 NOW.
BACKGROUND: Yikes! Like a bad zombie movie, health care is under attack again—and we need to do everything we can to protect it! This is an emergency: The new Cassidy-Graham bill that's being proposed is even more harmful and destructive to our health care than previous bills and would take away coverage from tens of millions of people. The bad news is that the U.S. Senate Republicans are VERY close to finding the 51 votes they need to repeal the Affordable Care Act (ACA/Obamacare). They have until Sept. 30 to pass this disastrous bill, so we're in a sprint to the finish to save health care coverage for millions of people! We can't let up! We have to make sure our U.S. Senators understand that taking away coverage from millions of people, ripping protections away from people with pre-existing conditions, and undermining women's access to comprehensive health coverage—including reproductive health coverage—is NOT acceptable!
2. Send a Letter to the Editor opposing the Senate Graham-Cassidy health care bill!
BACKGROUND: Outrageous doesn't even begin to describe it! In just days the US Senate could vote on yet ANOTHER disastrous health care repeal bill in just a matter of days. In a last-ditch effort, they're trying to gather enough votes to pass the awful Cassidy-Graham repeal bill, and this is the worst one yet!**We can't let up! Can you help speak out for quality, affordable health care and send a Letter to the Editor to your local newspaper? (Don't worry—we've made it very easy for you. Just click on the link and we'll walk you through the whole process) It's super easy! Just fill in this form and click "NEXT" to see your sample letter and talking points.
3. Tell Congress: DON'T Deregulate Silencers!
BACKGROUND: Congress is moving ahead with the Sportsmen's Heritage and Recreational Enhancement (SHARE) Act, which would specifically deregulate silencers among a host of other alarming provisions for weakening federal gun laws. The SHARE Act would remove silencers from the National Firearms Act (NFA) that was enacted by Congress in 1934 to fight organized crime. But deregulating silencers has little to do with protecting hearing and a lot to do with profits: Silencers are the fastest growing segment of the shooting market. Deregulation would help sales soar, because buyers – including the dangerously mentally ill, domestic abusers, and people with violent records – would no longer need to go through a months-long waiting period and would no longer need to be registered. Sign on now and tell Congress to reject any legislation that would deregulate silencers, including the Hearing Protection Act and the SHARE Act.  
4. Call Congress: No tax cuts for wealthy corporations! Call 1-844-633-2048.
BACKGROUND: Cutting funding for our families' health care, nutrition, and education in order to pay for tax cuts for millionaires, billionaires, and wealthy corporations? NO WAY! Extremists in the U.S. Congress and President Trump are making plans to do just that. Make a quick call to your Representative and tell them to vote "NO!" on budget plans that would cut programs that boost families in order to line the pockets of the privileged and wealthy: 1-844-633-2048.
5. Join Hispanic Heritage Month Celebrations and Our Spanish Language Community, MamásConPoder!
BACKGROUND: We are celebrating Hispanic Heritage Month with a 30-Day fiesta to recognize the achievements and contributions of Latinos to the U.S. There are an estimated 54 million Hispanic people in the United States, representing almost 17% of the population. The Hispanic community is thriving and playing a growing role in our nation's future. Please join our celebration following the hashtag #McPHHM in MamásConPoder Instagram, Twitter and Facebook. For more information and updates, please follow our Spanish language community here: http://moms.ly/unirseHOY
BONUS: VOTE NOW for your favorite MomsRising logo! We've narrowed down the ideas for the new MomsRising logo-- and now it's time for you to vote! What would you be proud to wear? What would stand out in a crowd? Vote for your favorite logo! It's quick and easy. And if you want to say more about why your choice is the strongest, we have space for you to write and will read all your comments.
Thank you for all you do! #KeepMarching!