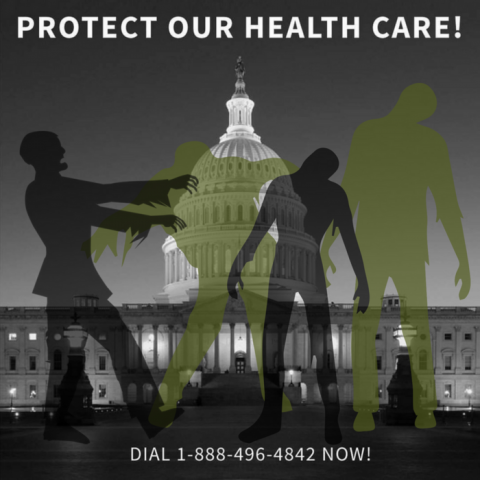 #5Actions of the Week: September 20
Did you see the news?  Health care is under attack AGAIN! Don't worry. It's YOU to the rescue! Buckle your seat belt and join us for this week's line up of priority actions below! We're talking about health care (of course!), early learning, healthy schools, overtime pay, and tax reform.   
You'll notice two of our actions involve calling leaders using our handy calling tool. It's easy! When you dial, you'll hear a message from us, after which you'll be connected to your representative's office. You'll probably reach a staff person whose job is to listen to constituents like you! It's easy, important and very impactful. Please try it out! (And remember: Offices want to hear from you!)   
1. Raise your voice! Tell U.S. Senators to work in a bipartisan way to strengthen, NOT repeal, the Affordable Care Act! Dial 1-888-496-4842 NOW.
BACKGROUND: Yikes! Like a bad zombie movie, health care is under attack again—and we need to do everything we can to protect it! This is an emergency: The new Cassidy-Graham bill that's being proposed is even more harmful and destructive to our health care than previous bills and would take away coverage from tens of millions of people. The bad news is that the U.S. Senate Republicans are VERY close to finding the 51 votes they need to repeal the Affordable Care Act (ACA/Obamacare). They have until Sept. 30 to pass this disastrous bill, so we're in a sprint to the finish to save health care coverage for millions of people! We can't let up! We have to make sure our U.S. Senators understand that taking away coverage from millions of people, ripping protections away from people with pre-existing conditions, and undermining women's access to comprehensive health coverage—including reproductive health coverage—is NOT acceptable!
2. Call Congress: No tax cuts for wealthy corporations! Call 1-844-633-2048.
BACKGROUND: Cutting funding for our families' health care, nutrition, and education in order to pay for tax cuts for millionaires, billionaires, and wealthy corporations? NO WAY! Extremists in the U.S. Congress and President Trump are making plans to do just that. Make a quick call to your Representative and tell them to vote "NO!" on budget plans that would cut programs that boost families in order to line the pockets of the privileged and wealthy: 1-844-633-2048.
3. Tell Congress: Support our littlest learners!
BACKGROUND: The struggle is real when it comes to finding high-quality, affordable early learning opportunities for our little ones. Childcare and pre-K costs are sky high—in fact, in 30 states and the District of Columbia, infant care costs exceed the average cost of college tuition. This is why we are inspired, thrilled, excited, and overall relieved that three leaders in Congress, Senator Patty Murray (WA), Senator Bob Casey (PA) and Representative Bobby Scott (VA) are taking a stand to address these issues by introducing the Child Care for Working Families Act. This legislation will address our nation-wide early care crisis by lowering childcare costs for low-income and middle-income families, support universal pre-K programs for all 3 and 4 year-olds, and significantly improve compensation and training for the childcare workforce to ensure that our nation's teachers and caregivers have the support they need. Sign our letter NOW encouraging your members of Congress to create a brighter future for our littlest learners, workforce, and economy by supporting the Child Care for Working Families Act.
4. Deliver a Healthy School Power Pack (by email or in person)
BACKGROUND: Happy Back to School! It's that time of year when the kids head back, the weather turns cooler, and everything seems to accelerate a bit. It's also a great time of year to make some friendly noise for healthy schools! We have done *so much* in recent years, from implementing new healthy meal standards to updating school wellness policies. We've spoken out about the importance of dual-language learning, and creating supportive spaces for our kids to learn. With great success! But as any parent knows, getting the swing of new habits takes time. That's where you come in! Can you deliver a packet of useful tips to your local school this month? It takes just a minute. Sign up to deliver a Healthy School Power Pack full of tips and resources! 
5. Protect Overtime Pay for Millions of Working People: submit a letter to the Department of Labor!
BACKGROUND: Last year we were thrilled when President Obama issued an Executive Order that required the Department of Labor to update and strengthen overtime protections under the Fair Labor Standards Act for as many as 12.5 million people, 6.4 million of whom are women. Unfortunately this forward movement was stalled after the election. Now, Donald Trump's Department of Labor is opening up a "Request for Information" in a blatant attempt to undercut the overtime pay rule, which is critical to our ability to earn a fair wage. We have to do everything we can to protect Over Time.
Submit a comment to the Department of Labor TODAY (right now) demanding the full implementation of this badly-needed, updated overtime rule. Here's how (it's easy we promise!):
Head on over to the Regulations.Gov website. 
Copy the sample comment below or write your own!
You're done! 
Sample comment:
Back in 1975, President Gerald Ford's Labor Department set the salary level for overtime exemption at the equivalent of about $58,000 in today's dollars―high enough to cover more than 50 percent of full-time salaried workers. The Obama-era rule set it at $47,476―high enough to cover about 34 percent of full-time salaried employees but lower than the level that it was in the 1970s. That's why the salary threshold should be at least $47,476; and without indexing, the overtime pay rule will continue to erode and not keep pace with inflation.
When fully implemented, this updated rule extends overtime eligibility to 4.9 million more working people and makes it harder for employers to deny overtime to another 7.6 million working people who are already eligible.
I urge the Department of Labor to implement the new overtime rule, keep the salary threshold at at least $47,476 and keep the indexing to protect the rights and wages of working people. The whole point of having national standards is to ensure decent basic standards for all workers. The updated overtime standard is already linked to the lowest-wage Census region. Workers' rights and wages should not be undercut even further by weakening the salary threshold.
Thank you for all you do, superheroes! #KeepMarching!