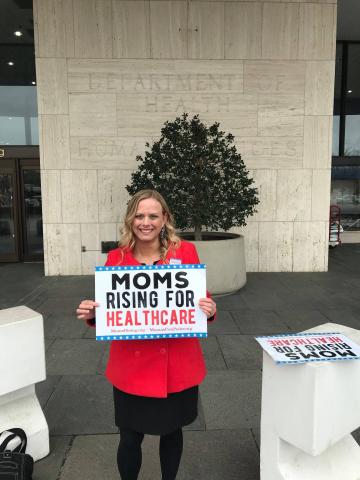 #5Actions of the Week: March 30, 2018
With the student leaders' call to VOTE, VOTE, VOTE still ringing in our ears, MomsRising is gearing up to make sure as many people as possible heed that call. Through our #MomsVote program, we're getting ready to get out the vote — including making sure as many people as possible are registered and at the polls on Election Day! Read on for exciting information about our launch meeting net Thursday with special guest U.S. Senator Elizabeth Warren! 
This week's #5Actions lineup also includes hot actions calling on Senate Majority Leader McConnell to allow Senator Duckworth to do her job while welcoming and caring for a new child, demanding justice for Stephon Clark, and urging Pennsylvania to close the Berks County Family Detention Center. We're also sharing a link to pre-order Kristin's new book Keep Marching! It's part inspiration and part activist manual, and all proceeds benefit MomsRising. 
As always please share this list with friends and family. It's an all-hands-on-deck kinda year. Thank you! 
1. The Fight to Get Out Every Vote Starts NOW! Join us next Thursday night.
BACKGROUND: We're thrilled to launch #MomsVote 2018 with a telephone town hall meeting at 8:30 p.m. ET (5:30 p.m. PT) on Thursday, April 5, with a very special guest: U.S. Senator Elizabeth Warren! On this telephone town hall meeting, we'll also be joined by Jessica Byrd, the Founder of Three Point Strategies, who was named the "January Woman to Watch" by Essence Magazine, one of the "12 New Faces of Black Leadership" by Time Magazine, and one of the most influential millennials who shaped the 2016 election by Rolling Stone Magazine. Jessica will talk about the power of voter engagement and why voter turnout is key. A leader from the National Education Association (NEA) will also join to talk about how you can get involved in registering students to vote and about the upcoming student walkouts on April 20. Turning out votes is a big deal – and you can make a big difference. Every vote will count, and the efforts of every woman and mother to drive up voter participation will count! Join us on the call to hear more about why and how!

2. Demand Justice for Stephon Clark! 
BACKGROUND: The police brutality epidemic in the United States is at an all time high. Over and over again, we have watched men and women of color be murdered in cold blood, while their murderers walk away free, unharmed, and even protected by the very systems that are supposed to protect us. Another Black man was shot TWENTY times to his death by Sacramento police on Sunday, March 18th, 2018. His name was Stephon Clark. He was only 22-years-old. Stephon was murdered in his own backyard. We are calling on Anne Marie Schubert, who is the District Attorney of Sacramento County, to demand total transparency of the investigation of Stephon Clark's murder from beginning to end, because that is what his family deserves. No family should have to fear losing their loved ones at the hands of those sworn to protect. Sign on and stand with us!

3. Tell Senate to Change the Rules: Allow Senator Duckworth to Do Her Job! 
BACKGROUND: U.S. Senator Tammy Duckworth is about to make history (herstory!) as the first U.S. Senator to ever give birth while in office! Unfortunately, we can't fully celebrate this mom milestone yet because, at the same time, she'll also make history for being the first U.S. Senator to ever be punished for having a baby while in office. WHAT THE WHAT?!? Punishment for having a baby while in office? It turns out that U.S. Senate rules will prohibit Sen. Duckworth from being able to sponsor legislation or vote if she takes leave for the birth of and bonding with her new child. And even if she doesn't take time away from work, she'll still likely be forced to miss votes because U.S. Senate rules will bar her from taking her infant child on the Senate floor to breastfeed. Discriminatory rules like these have to end! → Add your name to our letter now urging Senate Majority Leader McConnell to modernize the outdated U.S. Senate rules and allow Senators to bring their infant children on the Senate floor.

4. Raise Your Voice to Shut Down the Berks County Family Detention Center!
BACKGROUND: Babies are being held in detention. Families seeking asylum - many of which are led by moms - are being held in prison-like facilities. Human rights abuses in the name of immigration enforcement are not okay. This is not the America we seek to build. We can do, and be, better. Our voices are needed. Pennsylvania is home to the Berks County Family Detention Center (BCRC), a facility where U.S. Immigration and Customs Enforcement holds immigrant and asylum-seeking families. The Berks facility is currently one of three family detention centers in the United States where children as young as two-weeks-old are being held. Join us to raise our voices as parents from around the country calling on Pennsylvania Governor Wolf to Shut Down the Berks County Family Detention Center!

5. Pre-Order Keep Marching, Kristin's New Book, with all profits going to MomsRising!
BACKGROUND: Let's use the book — and the information in it about how to make the most effective change possible — to fight for gun safety, for health care, for turning the tide on sexual assault, for fair pay, for ending mass incarceration, for affordable childcare, for paid family/medical leave, for protecting the economic safety net, for fair immigration policy, and more. Let's change our lives and our nation for the better. To build our movement and this moment, we need to start getting in pre-orders ASAP (about 1,000 pre-orders to be specific!). Pre-orders are quite literally like the dynamite that launches the avalanche — and we're hoping for an avalanche of change as people use the book to help take high impact action at the local and national levels. Your pre-order gets things started! (Plus 100% of proceeds of the book go to MomsRising so it's pretty much a two-for-one — a donation AND a book!). *Can you help light the dynamite — and support MomsRising as you do it?
Also this week: MomsRising's Felicia delivered comments this week from over 20,000 MomsRising members to the US Department of Health and Human Services about HHS' "refusal of care" rule, which could lead to widespread discrimination in virtually every part of the health care system. Thank you to all who spoke out - you were heard!