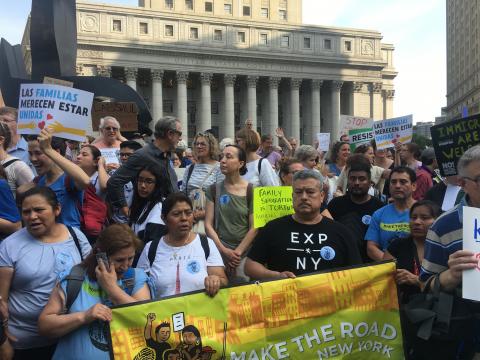 #5Actions of the Week: June 4, 2018
Today's a big day, as MomsRising joins partners in hosting a National Day of Action for Children in cities across the nation. We are at a critical point in history: We are horrified to share that it is now official US immigration policy to routinely and intentionally separate children from their parents at our southern border. Hundreds of children have already been ripped from their families. We cannot let the practice that Trump has put into place of purposely separating children from their moms and families to continue. We cannot allow human rights violations in the name of immigration enforcement to go on. Thank you to everyone who has joined us to speak out - online or in person. We are loud, we are powerful, and we're making a difference.
This week we're also shining a light on Moms Equal Pay Day, healthy food for young kids, gun safety, and more. Please read, sign and share. Thank you! 
1. Tell Leaders: Separating Children from Parents is Cruel and Inhumane! (Bonus: write a letter to your local paper too!)
BACKGROUND: Recently, the New York Times reported that more than 700 children have been taken from parents arriving at our borders since October, including more than 100 children under the age of 4. It's cruel to punish parents who are doing everything they can to protect their children and to punish children by depriving them of their parents. Separating a child from a mother or father only leads to more trauma for all. Losing a child is every parent's worst nightmare. Join us in telling Members of Congress and D.H.S. Secretary Kirstjen Nielsen that we strongly oppose separating infants and children from their parents. 
-> BONUS ACTION: Write a letter to your local paper! This is a critically important public conversation, and your voice is needed. We make it easy - click here to get started. 

2. Raise Your Voice to Shut Down the Berks County Family Detention Center!
BACKGROUND: Babies are being held in detention. Families seeking asylum - many of which are led by moms - are being held in prison-like facilities. Human rights abuses in the name of immigration enforcement are not okay. This is not the America we seek to build. We can do, and be, better. Our voices are needed. Pennsylvania is home to the Berks County Family Detention Center (BCRC), a facility where U.S. Immigration and Customs Enforcement holds immigrant and asylum-seeking families. The Berks facility is currently one of three family detention centers in the United States where children as young as two-weeks-old are being held. Join us to raise our voices as parents from around the country call on Pennsylvania Governor Wolf to shut down the Berks County Family Detention Center!
3. Register Your Eligible High Schooler or Other People in Your Life to Vote!
BACKGROUND: May 29 was National High School Voter Registration Day! Time to help eligible high schoolers -- or other people in your life -- register to vote so they can #Vote4OurLives! Registering people to vote is beyond easy, taking just a few minutes of your time. Sign up and we'll give you an online voter registration page. Then just have your voters fill it out! It's easy and has a big, big impact. #TheFutureIsVoting

4. May 30 was Moms Equal Pay Day. Let's talk about the wage gap & help CLOSE the wage gap! 
BACKGROUND: DYK May 30 was Moms Equal Pay Day - the day in 2018 when the average mom finally catches up to what the average white man earns in the year prior? Let's disrupt the wage gap, stand up and fight unequal pay, by talking more about how lack of equal pay hurts us all. Just learning a fact or two and sharing it with a friend or neighbor can help stop unfair pay. We'll get you started with a free copy of the equal pay chapter from the hit new book #KeepMarching. Just fill out the form and answer a few--optional!--quick questions and we'll send you a download link right away!
5. Help Us Make Healthy Food for Little Learners a Home Run!
BACKGROUND: In the contest for our kids' health, we're winning. Thanks to you, in recent years: schools now offer healthier meals and snacks; many restaurants offer kids healthier drink options; and chain restaurants now display information about calories and nutrition. Win-win-win for parents and families! Next up: healthier foods for our littlest learners! This year updates to meals and snacks offered in child and adult care centers will go into effect. Most exciting: these updates will support breastfeeding, fruits and vegetables, and limit added sugars. Help us hit this one out of the park! We're mobilizing parents to champion the new updates, and support providers making them a big success. Our voices and encouragement go a *long* way in helping the new guidelines succeed. Add a message of support for healthy food for young kids, and we'll get it to providers this summer! And if you're a provider, let us know what resources you need to make the updates a big success. Together, we are a force for healthy kids. Thank you! 
BONUS: Check out These Amazing Photos From the National Day of Action for Children Earlier Today!  
From top left, photos from our events in Harrisburg, PA; Oakland, CA; New Hampshire; Washington, D.C.; Seattle, WA; New York City. 
Thank you for all you do, and #KeepMarching!