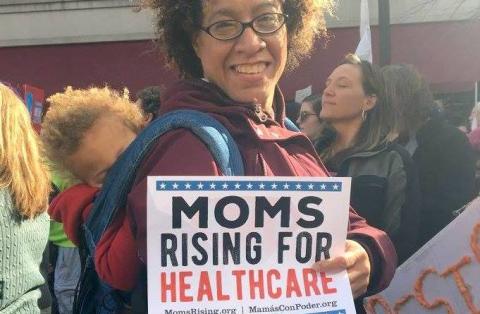 #5Actions of the Week: Friday the 13th Edition! (10/13/17)
It's Friday the 13th! And just like a low-grade horror flick, the zombie-ish attacks on healthcare just keep coming. We fought to defend affordable healthcare for our families over and over again, and we won't stop now.
Please take urgent action on the President's new Executive Order at the top of our weekly #5Actions list below. Then keep going to speak out for gun safety, CHIP, and more. You'll find shareable facts and resources for Hispanic Heritage Month toward the end, too. 
Thank you for all you do, and please be sure to make time for some self-care this weekend too. 
1. Tell Lawmakers "Act immediately by passing bipartisan legislation that will stabilize the marketplaces and bring down health care premiums for families."
President Trump, ignoring the will of the people and wisdom of experts, announced he would end the Affordable Care Act's cost-sharing subsidies, which will hurt millions of America's families and throw our health care system into chaos. This decision could raise costs by as much as 20 percent and increase the federal deficit by $200 billion over ten years! The public and Congress rejected health care repeal, so now President Trump is doing everything he can to do it himself and sabotage your health care in the process. Congress has the ability to take action to avert (or at least stem) this health care crisis. Sign on now! 
2. Tell Congress: Move Forward on Gun Safety Policies NOW!
Enough is enough. Our hearts are broken, and we will not wait. We demand real progress on gun safety, starting with a ban on military-style assault rifles and high capacity magazines; passage of universal background checks on gun sales; and a full stop to the SHARE ACT that is in front of Congress now, which aims to deregulate silencers to disguise the sound of gunfire. —> Our elected leaders have to stop wasting time! We need action now to stem the tide of gun violence. Join us in demanding that Congress finally moves forward gun safety policies like limiting military-style assault weapons and high capacity magazines.
3. Share Your Story on Medicaid, Food Stamps, WIC, Head Start, more! 
Thank you so much for taking action in the past few weeks and signing our letters to the U.S. Congress telling them to protect moms, kids, and families in the national budget and tax packages. We collected over 44,000 signatures from moms, dads, and concerned voters like YOU and then we delivered them to elected officials last week. Together we are a powerful force! Now we are hoping you could double down on your efforts and share a quick experience with us about how programs like Medicaid, Medicare, food stamps, WIC, Head Start, Afterschool and Summer Programs, and childcare assistance have boosted you and your family! We hear over and over again from members of Congress and their staff about how your stories make a difference. Instead of reading yet another administrative report on why food stamps or childcare assistance matters, our leaders like to hear from real parents about how these nationally funded programs are used and why they should be protected.
4. Celebrate National School Lunch Week! Deliver Handy Resources to Your School (quick and easy!) 
This week we're shining a spotlight on the importance of healthy school meals. We've made great progress in recent years. But there's more to do, and we need YOU on the team! Can you deliver a packet of useful tips to your local school this month? It takes just a minute. We'll include handy resources for you, too! Sign up to deliver a Healthy School Power Pack full of tips and resources here!
5. Send a Letter to the Editor to Support CHIP!
We have a children's health emergency! As all the attention was on saving the Affordable Care Act, Congress allowed the Children's Health Insurance Program (CHIP) to expire on September 30th, putting 9 million children's health care at risk! Yikes. Right now, some of your members of Congress are home in their districts. One thing we know for sure is they'll be reading their local newspapers to find out what's important to their constituents. This makes it the perfect time to submit a letter to the editor in support of CHIP! Join us in writing a letter to the editor that calls on Congress to act NOW to extend CHIP. It's super easy! Just fill in the form and click "NEXT" to see your sample letter and talking points.
Thank you for all you do! #KeepMarching!
P.S. Help us celebrate Hispanic Heritage Month! Tweet: This #HHM, celebrate your cultural language by visiting @weareoneamerica's #SpeakYourLanguage: https://ctt.ec/1g0a9+ #bilingualkids