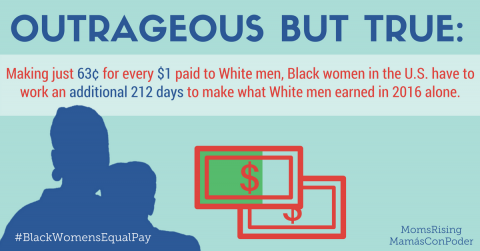 #5Actions of the Week: August 8, 2017
Summer is here, and we need to keep the HEAT ON around issues we care about! Join us and thousands of people eager to keep summer sizzling by taking action on equal pay, childcare, net neutrality, immigration and more below! Scroll to the end for a bonus silly action, too! 
As always, please act and share. Together we're making a difference.   
1. Quick Signature → Close the Black Women's Wage Gap
BACKGROUND: Last Monday, July 31st was the day that the average earnings of Black women in the United States FINALLY caught up to the average earnings of what White men earned in 2016. Your voice is needed now to bring this issue forward. The sad fact is that women still experience wage discrimination every day, with moms and women of color experiencing the most extreme discrimination and wage hits. Solutions are possible—and the more of us who speak up, the faster we'll get to those solutions. This wage gap is outrageous. So outrageous that you're still trying to figure out the math? Here's how the numbers work out: Black women who work full-time, year round, are paid only 63 cents on the dollar compared to White men. Sixty. Three. Cents. Black mothers are paid even less. On average across the country, Black mothers earn 51 cents on the dollar compared to White, non-Hispanic fathers. Join us to speak out. 
2. Got Suspension Stories? How have school discipline policies affected your children and family?
BACKGROUND: Every year, 3.3 million students in the United States are suspended from school, causing them to miss critical learning time, as well as opportunities to grow and succeed. Recent federal data show that Black and Latino students and students with disabilities are disproportionately targeted by suspensions. They are also likely to be punished more severely than White students for minor misbehavior, contributing to the achievement gap and high dropout rates for these students. Can you join us in speaking out? We're collecting stories from families who have been negatively impacted by suspensions and from teachers who are using alternatives to suspensions and other exclusionary discipline policies that too often push students into the school to prison pipeline. These stories help to push legislators and school districts to see the data,hear the experiences of children and families, and make changes to dismantle the school to prison pipeline. Teachers: we want to hear your stories too! 
3. Speak Out for High-Quality, Affordable Childcare!
BACKGROUND: A lot of lip service has been paid—both good ideas and not so good ideas—recently in terms of the childcare crisis many families find themselves in.Childcare played a major role in the 2016 election with candidates from both sides of the aisle proposing solutions on how to fix our childcare dilemma. In fact, a 2016 poll found that 90% of voters (both Republicans and Democrats) agree that our elected leaders should work together to make quality early childhood education, including childcare, more accessible and affordable to low- and middle-income families. This is why we are calling on the U.S. Congress to step up to the plate to pass policies that help our families afford childcare, increase access, and give our childcare professionals the boost they need! Key leaders in Congress are already starting to draft legislation on this issue, but we need to make sure it is the right type of legislation—not just a benefit for the wealthy few. **Write your Members of Congress NOW! Tell them to support high-quality, affordable childcare legislation!
4. Tell FCC and Congress: Protect Net Neutrality!
BACKGROUND: An open internet is essential to protecting freedoms we hold dear: our ability to innovate, speak our mind, connect, and hear diverse voices and opinions. The Federal Communications Commission (FCC) wants to roll back 2015 rules that require internet service providers (ISPs) to treat all content the same. We can't let them. Join us to say NO! Net Neutrality ensures a level playing field. It stops ISPs from blocking or suppressing content. It limits them from manipulating the speed at which you receive certain content, or selling premium access to the highest bidder. Net Neutrality ensures that when we raise our voices online, they can be heard - loud and clear. Join us to take action! 
5. Ask Congress to Stand With 800,000 Dreamers Across the Country! Defend the DREAM ACT!
BACKGROUND: Stand with young adults who have been here since they were children by protecting the path to citizenship for Dreamers! Dreamers are young adults who were brought to America as children and raised in this country. As U.S. Senator Schumer stated, Dreamers are "Americans in every way but paperwork". Join us in asking legislators to stand with Dreamers and support Dream Acts currently under consideration in the House and Senate.
Thank you for all you do superheroes! #KeepMarching!