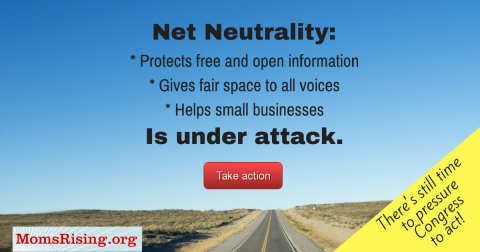 #5Actions of the Week: April 13, 2018
It's another big week! Equal Pay Day was April 10, Tax Day is coming up on the 17th, and the Farm Bill has been introduced! Please take a moment to take action on all of these issues - and more - via the top #5Actions list below! Then ... relax and enjoy your weekend, knowing you've done good work and raised your voice about issues that matter. Thank you!
1. April 10 Was #EqualPayDay. Tell Congress how you feel (we'll send your signature AND an emoji!)
BACKGROUND: This week was Equal Pay Day. Again. The day that marks how far a woman typically has to work into 2018 to make what men were paid the previous year, across race, ethnicity, and industry. This is quite simply NOT okay. Making the nightmare even worse, instead of helping our nation move forward to close the gender wage gap, the Trump administration put an indefinite hold on an important Equal Opportunity Employment Commission (EEOC) pay data collection initiative which was started by President Obama. Join us to tell Congress and the Chair and Commissioners of the EEOC: "It's time to close the women and mother's wage gap and boost our national economic security!" 
2. Send a Letter to Your Local Paper for Tax Day!
BACKGROUND: Tax Day is April 17th. This is the first Tax Day since President Trump and GOP leader in Congress passed the largest tax plan in American history, ringing in with a price tag of $1.5 trillion-—and 83% of it went to mega-corporations, millionaires, and billionaires. Working families were left footing the bill on this one. And all we have to show for it is meager, temporary increases in our paychecks, the inability to itemize our taxes, and for 13 million people—the loss of our healthcare. ***Enough is enough! It's time to repeal the Trump tax cuts for mega-corporations and millionaires, and billionaires! Join me in speaking out this Tax Day! Send a Letter to the Editor to your local paper speaking out against tax cuts for mega-corporations and the ultra-rich! It's super easy! Just fill in the form and click "NEXT" to see your sample letter and talking points.
3. FARM BILL INTRODUCED! Now is the time to speak out for SNAP. 
BACKGROUND: The Farm Bill has been introduced! Now is the time to speak up for SNAP (food stamps). The U.S. Congress is making important decisions about the future of SNAP (or food stamps) and we want to show how these changes would affect real moms, dads, children, and concerned voters. Personal stories are powerful and make a huge difference in helping members of Congress understand why SNAP is important to our nation's families. All experiences are powerful and you can share your story anonymously, if you prefer. Tell us how SNAP has helped you and your family and what it would mean if restrictions were placed on the program, like work requirements. After you share your story with us, we'll share your thoughts and experiences with key decision-makers in your state and in Washington, D.C. Your brief thoughts can make a huge difference in the upcoming fight to protect SNAP!
4. There's Still Time to Protect Net Neutrality! 
BACKGROUND: The fight for Net Neutrality isn't over yet! Congress has the ability to reverse the FCC's awful decision, through a "Resolution of Disapproval". And we *almost* have enough support to get it passed! In fact we need just one more vote before the April 23 deadline. That's why it's so important we speak out now. Net Neutrality ensures a level playing field. It stops ISPs from blocking or suppressing content. It limits them from manipulating the speed at which you receive certain content, or selling premium access to the highest bidder. Net Neutrality ensures that when we raise our voices online, they can be heard - loud and clear. Call on Congress to act! -> 
5. Help Spread the Word About New Keep Marching Book! 
We'd love your help getting the word out about Kristin's new book, which comes out on May 1st, with 100% of author proceeds going to MomsRising! Here's a sample post ready for you to share on social media. Thank you so much!
Excited about Kristin Rowe-Finkbeiner's book, Keep Marching! This book is a practical guide for building women's power and leadership that offers a personal, persuasive, and highly researched examination of the barriers that hold women back--and how to break them down. The book will be out in May but you can pre-order your copy today! http://keepmarchingbook.com/?no_redirect=1
 Thank you for all you do and #KeepMarching!