50th Anniversary of Civil Rights March An Inspiration To Advance Humane Immigration Reform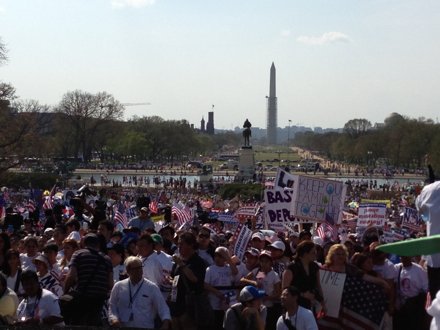 April 10th, 2013 was a memorable day for me. I was in Washington, D.C. and participated, in what for me personally, was the largest rally I had ever attended. See pictures here.
Tens of thousands of people of all heritages, hues, and life experiences, covered the lawn in front of the Capitol Building, demanding that Congress immediately fix our broken immigration system. Group-by-group, speakers went on stage giving their reasons why immigration reform was fair and just: the pastors who called it a moral imperative that no one in our country be left to live in the shadows; the African American community that showed solidarity with the immigrant community; the unions and businesses that came together for commonsense reforms that would ensure more humane treatment of workers; the LGBT community that wanted their relationships recognized as any other American; the immigrant rights groups and social justice organizations; and the women delegation, of which I was a part of, reminding the public that two-thirds of immigrants in our country are women and children.  How could we not fix our immigration policies?
Five months later, the U.S. House of Representatives has failed to introduce any kind of immigration legislation. They are in recess while 5.5 million children run the risk of being separated from their parents. Around 11 million people, no matter how many hours they work or how much they contribute to our culture and economy, have no way to legalize their immigration status.
Everyone from economists to human rights activists have said that immigration reform would be a boost to our economy and be consistent with our country's values. Independent businessman and New York City Mayor Michael Bloomberg has written that "Reforming a broken immigration system is the single most important step the federal government could take to bolster the economy."
Yet, this issue has become unnecessarily bitter and divisive. A certain elected leader even resorted to ugly stereotypes – rather than reason – to justify not supporting comprehensive immigration reform. I've been an organizer with MomsRising for some time and his comments were one of those moments that left me scratching my head. Why does he feel this way? Why haven't we moved forward on this issue?
Then I am reminded that it was 50 years ago that organizers wondered the very same thing about desegregation and allowing African Americans to vote in the south. If we were all created equally, why shouldn't every single one of us have the right to vote free of harassment? Why shouldn't every single one of us have the right to decide where to live, where to work and attend school? From the steps of the Lincoln Memorial in Washington, Dr. Martin Luther King, Jr. said the following:
"And as we walk, we must make the pledge that we shall march ahead. We cannot turn back. There are those who are asking the devotees of civil rights, "When will you be satisfied?" We can never be satisfied as long as our bodies, heavy with the fatigue of travel, cannot gain lodging in the motels of the highways and the hotels of the cities. We cannot be satisfied as long as the Negro's basic mobility is from a smaller ghetto to a larger one. We can never be satisfied as long as a Negro in Mississippi cannot vote and a Negro in New York believes he has nothing for which to vote. No, no, we are not satisfied, and we will not be satisfied until justice rolls down like waters and righteousness like a mighty stream."
Dr. Kings' words inspire me as I continue to work with my colleagues for immigration reform that is fair and just for women, children and families. We cannot turn back, and we will not be satisfied until justice for aspiring citizens prevails.
Looking over the course of history, I am an optimist and a realist.  I am confident that those of us who support comprehensive immigration reform will reach the Promised Land. But if our history as a country is an indicator, it is going to take a while. It is going to take us marching forward despite any negativity and downright false information. It is going to take us pushing and prodding Congress. That's why on this historic date, I urge all of you to sign an oath to move immigration forward in the House!