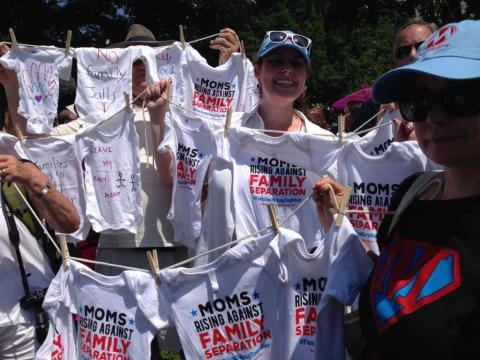 5 Ways You Can Respond To The Family Separation Crisis
The Inspector General of the Department of Health and Human Services (HHS) says that not only were "thousands" more migrant children separated at the Southern border by the Trump administration than previously known, but that they didn't even know how many children were taken away from their families because of failures to track families as they were being separated! 
It is horrific that thousands of children were forcibly removed from their parents and unspeakable that the fate of these children is still unknown. 
In these incredibly challenging times, we have listed ways  you can take action NOW. Here's how:
1. Call Congress
Your elected officials represent and work for you. Let them know that they need to take action now! Call the Capitol switchboard (202) 224-3121, let them know you want to talk to a  member of Congress representing your city and state (There is one House Representatives and two Senators who represent each constituent), and then you can say something like:
"I am very upset that our government seperated children from their parents at the border.  I ask you to stand up against this cruel policy, stop funding it, and demand accountability of the administration, and make sure that every child is reunited with their family."
2. Tell Congress to Fund Alternatives to Detention
As the administration responds to pressure to reunite ALL children with their families, we must ensure they don't replace family separation with family detention. The administration has been increasing it's immigration detention system, even during the shutdown. Family detention is NOT a solution to family separation, and we can intervene today by letting our members of Congress know that their constituents do not want their tax dollars used to pay for  family incarceration, and by calling on Congress to instead allocate money for common sense and fiscally responsible alternatives to detention like the highly effective family case management program.
Sign up to deliver a fact sheet to the local office of your member of Congress to call on them to invest in alternatives to detention: https://action.momsrising.org/survey/Family_detention_drop_off/
3. Write a Letter to The Editor
Members of Congress pay attention to local press. Make your voice heard by publishing a Letter to the Editor in your local paper. Click here to send a Letter to the Editor to urge your elected officials to invest in alternatives to family incarceration.  
4. Volunteer with a Local Organization
Family separation doesn't just happen at the border. You can support asylum-seeking families in your community by volunteering with a local immigrants rights group. Use this link to find an immigrants rights group near you!
5. Keep Using Your Outside Voice and Organizing Locally
Your voices are powerful and have had a big impact. Local actions, including play date protests, meeting with your local officials, or attending a town hall, help keep the pressure on the administration to reunify every family it separated. 
Town halls are one of the most effective and direct ways to engage a member of Congress, as well as a great way to garner local media attention in your district. This platform also allows for individuals to motivate other voters to hold members of Congress (MOC) accountable.
Vulnerable families need your continued voice and advocacy to make sure that all families are reunited and have due process in their asylum applications. There is an enormous amount of work left to do: the Administration missing their deadlines is absolutely no excuse for failing to reunite kids with their parents in the midst of a manufactured crisis that they have created.
How we treat new immigrants reflects our commitment to the values that define us as Americans. We believe that families should stick together, that we should look out for each other, and that hard work should be rewarded. We need your voice to call on Congress and the administration to reunite every child and to create a fair immigration process that is true to the values we aspire to as a nation.