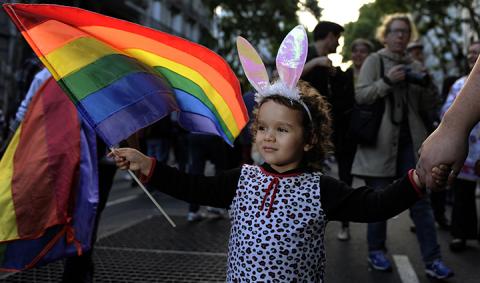 5 Ways To Teach Kids About LGBTQ+ Equality With #MomsReading
Welcome to our second post in our four part social justice series! In the age of toxic rhetoric dominating conversations in American politics, it is more important than ever to talk to our families about diversity, inclusion, and equality to help build a better future.
Wondering how to get started? We've got you covered! Make sure to check out our first post in our social justice series about 5 ways to introduce activism to your child.
An understanding of the concepts discussed in this series will help you prepare your child to be a good citizen while strengthening your child's social awareness skills--one of the five important social-emotional development skills.
**For more on what social-emotional skills are, check out our first MomsReading blog post.**
While there are endless possibilities for books and activities, below are some of our top picks. Share your family's favorites on Facebook and Twitter using the hashtag #MomsReading. Let us know what books you are enjoying and how they are helping your child learn about activism and social justice!
Your LGBTQ+ equality reading and activity starter kit!
Read this (Best for ages 3 to 6)! Introducing Teddy introduces the youngest readers to understanding gender identity and transition in an accessible and heart-warming story about being true to yourself and being a good friend. Discuss with your child what gender identity is, how you feel inside.  Explain that biological sex and gender identity are two different things and that when they don't match up, the person can identify as trans*.  Check out this Bustle article for more discussion points.
Read this (Best for ages 3 to 7)! Mommy, Mama, and Me talks about a toddler's day with his two mommies, showing the loving bond between same-sex parents and their children.  Afterwards, discuss how the toddler's day in the book is similar and different to your family's day.  You can also talk about how every family may look different, but what is important is that you love and care for one another.
Read this (Best for ages 6 to 10)! Call Me Tree / Llamame arbo is a bilingual story about a gender neutral child on a journey of self-discovery! After reading, check out these awesome dual-language parent resources from Gender Spectrum for further information about gender identity and how to discuss with your child what we feel inside.
Do this! The Human Rights Campaign created the Welcoming Schools initiative, an LGBTQ-inclusive approach to addressing family diversity, gender stereotyping and bullying, and name-calling in K-5 learning environments.  You will find some great suggestions on how to respond to questions about LGBTQ topics, including gender identity and marriage equality, and have discussions with your children.
Do this! GLSEN has created a toolkit for elementary school teachers full of activities and recommendations. One great activity "That's Just For" (found on page 46) helps students develop an understanding of the negative effects of gender stereotyping and related behaviors.
What are your favorite social-justice books or activities that celebrate diversity and inclusion? Remember to share with us on Facebook or Twitter using the #MomsReading hashtag!