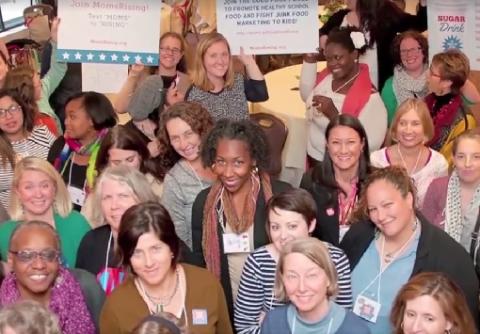 5 Ways to Stay Woke and Engaged Politically
It has been reported that the Trump presidency has inspired hundreds of thousands of people to become politically active, as if Americans have been hibernating. In this political climate, one thing has become very evident, President Trump has woken the sleeping bear.
Large numbers of voters on both sides of the political spectrum have been marching, protesting and attending Congressional town halls. Despite what 45's tweets may claim, these people are NOT paid protestors. They are average citizens: voters and concerned Americans, like me and you. They are Main Street USA dependent on the ACA, Medicaid and worried for education, women's rights, LGBT rights and gun control. This is democracy in action.
Based on the Indivisible Guide, this Indivisible Movement is being compared to the early days of the Tea Party Movement. But can this passion, energy and this momentum be maintained? How do average Americans with no ambition for political office stay informed and involved?
Staying informed and engaged is simple when you break it down to five basic steps.
---
5 Ways to Stay Woke and Engaged Politically
1. Join the Congress.gov alerts.
Visit www.congress.gov to register an account. Then, sign up for the RSS feed to receive notices and updates for the most viewed bills, bills presented to the president and updates for items "On the House Floor Today" and "On the Senate Floor Today".
2. Join the email list serve for MomsRising and Other Task-Oriented Organizations
Together we are stronger! Support and join organizations, like MomsRising and other politically active organizations. These organizations will keep you up to speed about important issues by sending petitions to sign, dates for upcoming events and other means to stay proactive, whether it's sending a postcard to a senator or joining in a tele-conference. Also, make sure to follow each organization on their various  social media platforms.
3. Subscribe to a Progressive Newsletter or Podcast
Let's face it, large news networks focus on advertising dollars and for that reason, those outlets may not be able to give a story the coverage it deserves. Radio programs such as Democracy Now, NPR and Thom Hartmann cover issues at greater depth. You can also subscribe to their newsletter and receive a daily digest of topics covered on air even when you cannot tune into the program.
4. Join a local Indivisible Group or another local progressive action network.
If you feel like a lone progressive in a red county or red state, find people who share a similar political agenda as you. Connecting with like-minded politically active people will not only be inspiring but will also be a saving grace. An active local group sparks the grassroots momentum for all local activism by hosting town halls, sharing upcoming rallies and events and the strength-in-numbers, herd mentality will motivate you to mobilize and take action.
5. Stay Informed.
Stay informed by reading, and fact checking, everything that comes your way. Support the First Amendment and freedom of the press and really stick it to Trump by subscribing to the "failing New York Times" and your local "fake news" newspaper. Read publications outside of the U.S. such as BBC World News or the Independent. Read progressive and conservative publications alike from the left-leaning publications to the extreme right. While it may upset you to read opinions different from your own, try to understand the viewpoint presented.
Don't get comfortable inside your bubble. We are in the mess we are in because our country has chosen sides rather than finding a middle ground.
Would you add anything else to this list? Let us know in a comment. We WANT to hear from you.