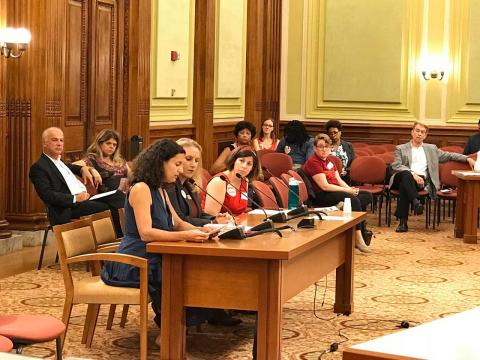 5 Ways to be an Activist in your City with the National League of Cities!
The National League of Cities sat down with MomsRising's  #KeepMarchingCircle to discuss how parents can help create change at the local level! Below is the video of this wonderful conversation!
As Katie Whitehouse (Principal Associate for Early Childhood Success) and Dawn Schluckebier  (Principal Associate for Economic Opportunity and Financial Empowerment), said in the video, working with city leaders and local government is crucial for moving forward the issues you care about! Ready to get involved in your city?
Below are five tips the NLC shared with us on how to lift up YOUR voice in YOUR municipality.
1. Be active and attentive! - This helps keep your issue relevant in the mind of city leaders. You can accomplish this by knowing the key players in your town and make sure they in return know you! Make calls, email leaders, attend city council and committee meetings, invite local leaders to PTA meetings -  be a constant reminder about the issues you care about. 
***DC MomsRising members with Councilmember Evans talking about the importance of paid family leave!***
2. Don't forget to thank your city leaders! - While it is important to nudge city leaders when they aren't lifting up the issues that impact your family and community, but, it's equally important to thank them when they support positive changes! Thanking city leaders for supporting the issues you care about can be as simple as a phone call or as elaborate as a like size thank you card (see picture below!) 
***MomsRising celebrating Dayton families, leaders, and a strong start for kids at the City Commissioners' meeting Mayor Nan Whaley!***
3. Connect your issue to the Mayor's priorities! - One of the best ways to do this is by finding the Mayor's State of the City address. Usually, the city's priorities are outlined in this speech. As an example, here is DC Mayor Bowser's State of the City address. For larger cities, you can usually find these priorities on the city's website.
4. Host a forum to get municipal candidates on the record about your issue! - Before they are even elected, you can make sure candidates for Mayor, city council, and more are on record supporting your issue. Here are two amazing guides for how to host or participate in a forum!
5. Don't forget: YOU have a voice! - As a parent or caregiver, you have a powerful voice and come from a powerful constituency. You have a right to march into city hall and meet with your local leaders! To drop by city hall, all you have to do is bring your materials or talking points. Once there, speak with the receptionist and they will direct you to the office that you are looking for and who is available to speak with you! To set up a specific meeting time, you can go to the city's website and look for the City Council section or for the Mayor's corner. Here, you will find the proper procedure for setting up appointments for your area. For larger cities, city council members may even have their office hours on their website. If you have difficulty finding this information, always feel free to call the city council contact number - they are always willing to help because they want to hear from YOU!
***North Carolina MomsRising member Monya M James spoke to Clayton officials about how they can strengthen early learning programs, like childcare and pre-k, for their residents!***
Activism on the city and local level can provide more access, tangible progress, and overall JOY!
Have any questions about being an activist in your community? Have other tips to share with us about interacting with city leaders? Let us know in the comments!
Want to get started right away? Join MomsRisng today and learn how you can lift up early learning in cities!