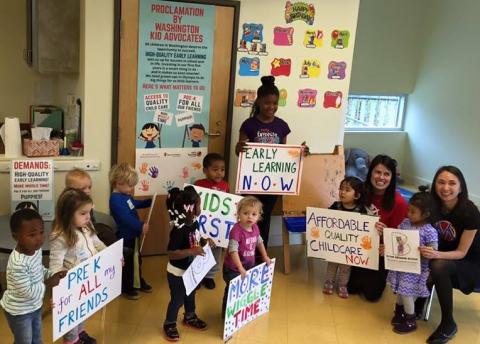 5 Ways For Kids To Fight Injustice With #MomsReading
Welcome to our third post in our four part social justice series! In the age of toxic rhetoric dominating conversations in American politics, it is more important than ever to talk to our families about diversity, inclusion, and justice to help build a better future.
Wondering how to get started? We've got you covered! Make sure to check out our first post in our social justice series about 5 ways to introduce activism to your child and our second post about LGBTQ equality.
An understanding of the concepts discussed in this series will help you prepare your child to be a good citizen while strengthening your child's social awareness skills--one of the five important social-emotional development skills.
**For more on what social-emotional skills are, check out our first MomsReading blog post.**
While there are endless possibilities for books to read and activities, below are some of our top picks. Share your favorites on Facebook and Twitter using the #MomsReading hashtag.  Let us know what books your family is enjoying and how they are helping your child learn about social justice!
Your fighting for justice reading and activity starter kit!
Read this (Best for ages 3 to 9)! Brave Girl: Clara and the Shirtwaist Makers' Strike of 1909 centers around the story of Clara Lemlich, a young Ukrainian immigrant who led the largest strike of women workers in U.S. history. This story has the main messages that you have to stand together and fight for what you want and that you could do anything you put your mind to. After reading, re-read the final lines of the story: "Proving that in America/wrongs can be righted/warriors can wear skirts and blouses/and the bravest hearts/may beat in girls/only five feet tall." Ask your child what they think this line mean and how it might apply to their life. For more great discussion prompts, check out this fantastic reading guide!
Read this (Best for ages 5 to 8)! In Click, Clack, Moo: Cows That Type Farmer Brown refuses to comply with the demands of his farm animals, so the cows go on strike! The main message of the story is about the power of peaceful protests and strikes. After reading, talk with your kids about the fact that Farmer Brown was very upset by the idea of giving the cows blankets. Ask they why he was so bothered by the idea and if he did the right thing in the end? What else could he have done for the animals?
Read this (Best for ages 5 and up)!  ¡Si, Se Puede! / Yes, We Can!: Janitor Strike in L.A. is a bilingual fictional story set against the backdrop of the successful janitors' strike in Los Angeles in 2000. The story also shows children that they too can have a role in powerful movements.  After reading, ask your kids if there has ever been a time in their life when someone did something that they have not agreed with or if they have ever felt unfairly treated. Follow up by asking them how it make them feel and what they did about it. Tie this response to injustice to how the characters responded.
Do this! Some parents find it difficult to talk to their children about current protests happening around the country (a great example is Colin Kaepernick or Standing Rock). Adelaide Lancaster from We Stories gives five great discussion starters on the topic.
Do this! Create a living room protest like activist Staceyann Chin did with her daughter. Find an issue your child cares about, for Chin's daughter it was her dislike of adults picking her up and calling her beautiful. Create signs and a reason for the protest. Then film it on your iPhone or other device. This activity shows your child that their voice matters and that protests are not violent action, they are about "being apart of a conversation," as Chin says.
What are your favorite social-justice books or activities that celebrate diversity and inclusion? Remember to share with us on Facebook or Twitter using the #MomsReading hashtag!